Apex Magazine #81 Now on Sale
Apex Magazine #81 Now on Sale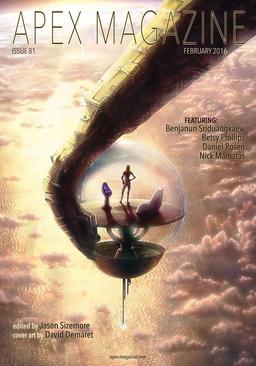 In his editorial this month, Jason Sizemore gives us the scoop on the February issue.
Welcome to issue 81… it's an issue rich with imagination and strange worlds.

What kid on the cusp of becoming an adult doesn't look forward to the day when they're able to travel past the bounds of childhood? Daniel Rosen takes that concept and, because this is Apex Magazine, adds a disconcerting and thought provoking twist. We welcome Betsy Phillips and Benjanun Sriduangkaew back to our pages. Betsy's story feels particularly timely due to the recent 1.5 billion dollar Powerball Lottery drawing…. Wrapping up our fiction selections, we present a reprint of "On the Occasion of My Retirement," a novelette by Nick Mamatas receiving its digital debut inside Apex Magazine.

Our poetry this month comes courtesy of Heather Morris, Mike Jewett, Crystal Lynn Hilbert, and Laurel Dixon. Russell Dickerson interviews cover artist David Demaret. Andrea Johnson interviews Benjanun Sriduangkaew regarding her avant-garde and poetic fiction output.

Our podcast fiction this month is "Four Gardens of Fate" by Betsy Phillips. Finally, enjoy an excerpt from Glitch Rain by Alex Livingston, the latest book from Apex Publications. Many of our regular readers will recognize Livingston for his story "Proximity" from issue 73. Glitch Rain is set in the same universe as "Proximity."
Here's the complete TOC.
Fiction
"The Beast at the End of Time" by Benjanun Sriduangkaew
"Anabaptist" by Daniel Rosen
"The Four Gardens of Fate" by Betsy Phillips
"On the Occasion of My Retirement" by Nick Mamatas (from The Nickronomicon, 2014)
Poetry
Calabash by Mike Jewett
Little and Red by Crystal Lynn Hilbert
Arrhythmia by Heather Morris
Paper Unicorn by Laurel Dixon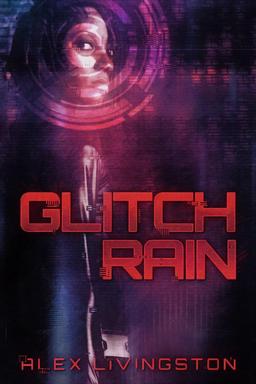 Nonfiction
Words from the Editor-in-Chief by Jason Sizemore
Interview with Author Benjanun Sriduangkaew by Andrea Johnson
Interview with David Demaret, Cover Artist by Russell Dickerson
Novel Excerpt
Glitch Rain by Alex Livingston
Podcast #32
"The Four Gardens of Fate" by Betsy Phillips (26:30 in length)
Apex Magazine is a monthly science fiction, fantasy, and horror publication featuring original short stories, poetry and non-fiction. It is edited by Jason Sizemore and Sigrid Ellis, and released the first Tuesday of every month. In 2012, 2013 and 2014, it was nominated for a Hugo Award for Best Semiprozine.
We last covered Apex Magazine with issue 80.
Apex Magazine is published by Apex Publications. Issues are available free online, and sold for $2.99 in a variety of digital formats. Subscriptions are just $19.95 for one year (12 issues) in EPUB, Mobi, and PDF formats.
This issue's cover is by David Demaret. The complete issue is here, and you can buy back issues or subscribe at their website.
Our February Fantasy Magazine Rack is here. See all of our recent fantasy magazine coverage here.