New Treasures: The Winged Histories by Sofia Samatar
New Treasures: The Winged Histories by Sofia Samatar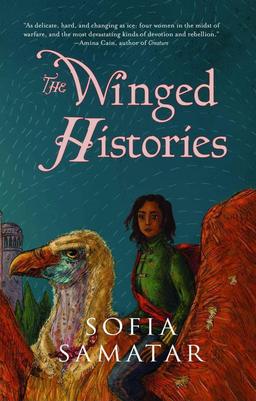 I met Sofia Samatar at the World Fantasy Convention in 2014, and I was very impressed. She was gracious and extremely well spoken, in public and in private, and won the Best Novel award that year for her acclaimed first novel A Stranger in Olondria (and also addressed "the elephant in the room" with her passionate comments on being presented with a statue honoring H.P. Lovecraft).
A Stranger in Olondria also swept the British Fantasy and William L. Crawford Awards (and garnered a Nebula nomination along the way). The sequel, The Winged Histories, arrives next week from Small Beer Press, and it is unquestionably one of the year's most anticipated novels.
Four women — a soldier, a scholar, a poet, and a socialite — are caught up on opposing sides of a violent rebellion. As war erupts and their loyalties and agendas and ideologies come into conflict, the four fear their lives may pass unrecorded. Using the sword and the pen, the body and the voice, they struggle not just to survive, but to make history.

Here is the much-anticipated companion novel to Sofia Samatar's World Fantasy Award-winning debut, A Stranger in Olondria. The Winged Histories is the saga of an empire — and a family: their friendships, their enduring love, their arcane and deadly secrets. Samatar asks who makes history, who endures it, and how the turbulence of historical change sweeps over every aspect of a life and over everyone, no matter whether or not they choose to seek it out.
Sofia Samatar received the John W. Campbell Award in 2014. Her short fiction has appeared in Strange Horizons, Lightspeed, and many other publications. The Winged Histories will be published by Small Beer Press on March 1, 2016. It is 300 pages, priced at $24 in hardcover and $14.99 for the digital edition. Read the first chapter at Tor.com.