New Treasures: Black Arts by Andrew Prentice and Jonathan Weil
New Treasures: Black Arts by Andrew Prentice and Jonathan Weil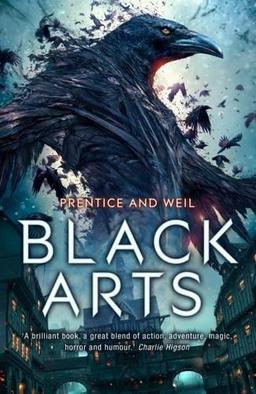 One thing about being part of the Black Gate community… you never lack for great book recs. This morning I was at Peadar Ó Guilín's blog, Frozen Stories, and stumbled on this brief review.
I very much enjoyed Prentice and Weil's Black Arts. It's a YA fantasy about a thief in Elizabethan London. I know, I know, you think you've seen this movie before. But this has a delightful creepyness about it — just read the prologue in the Amazon free sample chapters. I also like how when the main character messes up, the consequences are often very severe. It brings out the peril, I find, oh yes.
The gorgeous cover on the UK edition (at right) didn't hurt either. Black Arts is the opening volume of The Books of Pandemonium. Here's the description.
Devils in the stones. All around us…

London, 1592 – a teeming warren of thieves and cut-throats. But when scrunty Jack the nipper cuts the wrong purse, he stumbles into a more dangerous London than he has ever imagined — a city where magic is real and deadly.

Moving through a shadow world of criminals and fanatics, spies and magicians, Jack is set on a path of revenge. But he is starting to see London for what it truly is.

A city of devils.
Black Arts was published by David Fickling Books on March 1, 2012 in the UK. It is 496 pages in hardcover. The Fickling paperback edition will be released in the UK on May 5 2016, priced at £7.99. US readers can also order the earlier edition (with a different cover) through most online sellers.