Back Issue 86 Now Available
Back Issue 86 Now Available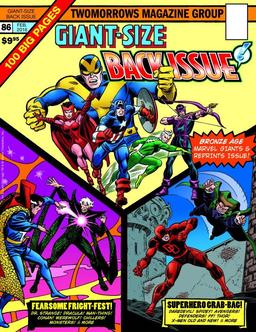 Back Issue is one of the best comic magazines on the market, especially if you're a fan of comics of the 70s, 80s, and today. The latest (February) issue is a 100-page giant, celebrating the Marvel Bronze Age Giants like Marvel Tales, Fantasy Masterpieces, and Marvel Triple Action. I have many fond memories of curling up with those lengthy treasures long ago, and looking through the full-color digital issue preview brought them all back. Here's the issue description.
Back Issue #86 (bonus-size 100 Full-Color pages, $9.95) takes a big look at Marvel Bronze Age Giants and Reprints! We open Marvel Comics' vaults for an in-depth exploration of its GIANT-SIZE series! Plus: indexes galore of Marvel reprint titles, Marvel digests and Fireside Books editions, and the last days of the "Old" X-Men. Featuring the work of DAN ADKINS, ROSS ANDRU, RICH BUCKLER, DAVE COCKRUM, GERRY CONWAY, STEVE GERBER, STAN LEE, WERNER ROTH, ROY THOMAS, and more. Re-presenting the cover of Giant-Size Marvel Triple Action #1 by JOHN ROMITA, SR.! Edited by MICHAEL EURY.
See the full details on issue 86 at the TwoMorrows website.
Back Issue is edited by Michael Eury, and published by TwoMorrows Publishing. Issue #86 is cover-dated February 2016. It is 100 pages in full color, priced at $9.95. The cover is by John Romita, Sr. An eight-issue subscription is $73 in the US ($31.60 for the digital version). Order right from the TwoMorrows website.
See our Late January Fantasy Magazine Rack here, and all of our recent Magazine coverage here.