Alan Rickman, February 21, 1946 — January 14, 2016
Alan Rickman, February 21, 1946 — January 14, 2016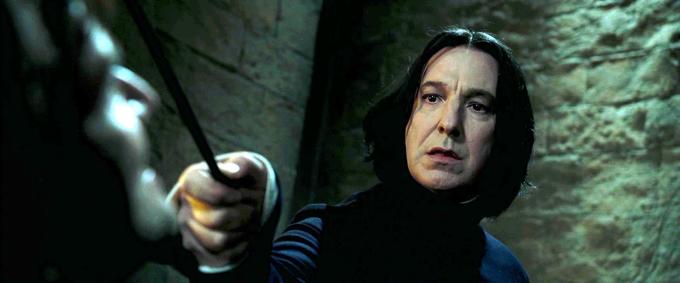 British actor Alan Rickman, known around the world for his spot-on portrayal of Slytherin wizard Severus Snape in all eight Harry Potter films, died today of cancer.
Alan Rickman burst into public consciousness with perhaps his finest film role — the arch villain Hans Gruber in Die Hard (1988), whom Maxim magazine called "The Finest Villain of Our Time." He played the Sheriff of Nottingham in Robin Hood: Prince of Thieves (1991) and Colonel Brandon in Sense and Sensibility (1995). My wife and I still quote Rickman's Colonel Brandon around the house. Science fiction fans especially enjoyed his marvelous portrayal of Alexander Dane/Dr. Lazarus (clearly based on Leonard Nimoy's Spock) in Galaxy Quest (1999). He was cast as Severus Snape in Harry Potter and the Sorcerer's Stone in 2001, and reprised the role seven times over the next ten years. He directed Emma Thompson and her real life mother Phyllida Law in his directorial debut, The Winter Guest (1995).
Alan Rickman began his career on stage in his late 20s; his first film role was the BBC TV's 1978 broadcast of Romeo and Juliet. He provided the voice for Absolem the Caterpillar in Alice Through the Looking Glass, to be released later this year. He died this morning, at the age of 69.