January 2016 Asimov's Science Fiction Now on Sale
January 2016 Asimov's Science Fiction Now on Sale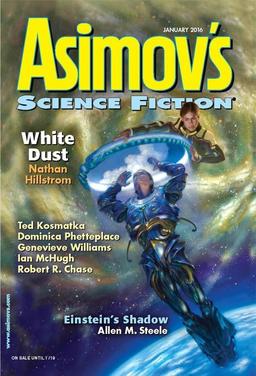 The January issue of Asimov's Science Fiction contains a big new novella from Allen M. Steele, "Einstein's Shadow," plus stories by Ian McHugh, Ted Kosmatka, Nathan Hillstrom, and others — all under a gorgeous cover by Donato Giancola, who painted the cover for Black Gate 15. Here's the description from the website:
Our January 2016 issue features a tense alternate history novella by Allen M. Steele. Danger, intrigue, and suspense are all aboard a Bel Geddes airliner as it makes an unforgettable transatlantic journey in "Einstein's Shadow."

Genevieve Williams ponders the haunting and unknowable alien in "The Singing Bowl"; Ian McHugh takes on a different set of provocative and nearly unfathomable aliens in "The Baby Eaters"; while Robert R. Chase offers us human and inhuman perspectives on "Conscience." Brand-new author Nathan Hillstrom debuts in Asimov's with a terrifying tale of "White Dust"; Dominica Phetteplace speculates about the mystery of "Atheism and Flight"; and Ted Kosmatka investigates the startling consequences of "Chasing Ivory."
Non-fiction this month includes Robert Silverberg's Reflections column, which invokes ancient Norse myth and the Twilight of the Gods in his reminiscence about "Fimbulwinter 2015"; James Patrick Kelly's On the Net looks at "The World of Series"; Paul Di Filippo's On Books reviews a Mike Ashley anthology of tales by early women SF writers, as well as works by Alan Smale, Ken Liu, and the Strugatsky brothers; Alvaro Zinos-Amaro & Paul Di Filippo offer a Thought Experiment about "Pushing the World in a Certain Direction and other Acts of Submission"; plus the annual Readers' Awards' ballot and Index, poetry, and other features.
Sheila Williams editorial, "All the News that Fits," talks about the brand new Asimov's website, and encourages voting in their Readers' Awards Polls.
Here's the complete Table of Contents, with links to story excerpts and online content.
NOVELLA
"Einstein's Shadow" by Dominica Phetteplace
NOVELETTE
"The Baby Eaters," by Ian McHugh
"Chasing Ivory," by Ted Kosmatka
"White Dust," by Nathan Hillstrom
"Conscience," by Robert R. Chase
"The Singing Bowl," by Genevieve Williams
POETRY
"William Carlos Williams Variation #1," by Robert Frazier
"Build a Rocketship Contest," by Wendy Rathbone
"Stranger," by Martin Ott
"William Carlos Williams Variation #2," by Robert Frazier
"Science and Science Fiction," by Bruce Boston
"Echoes," by G.O. Clark
DEPARTMENTS
Editorial: All the News that Fits, Sheila Williams
Reflections: Fimbulwinter 2015, Robert Silverberg
On the Net: the World of Series, James Patrick Kelly
Thought Experiment, Alvaro Zinos-Amaro & Paul Di Filippo
Next Issue
On Books, Paul Di Filippo
Thirtieth Annual Readers' Award
2015 Index
The SF Conventional Calendar, Erwin S. Strauss
The December issue went on sale December 8. It will be on sale until January 19.
Asimov's Science Fiction is edited by Sheila Williams and published by Dell Magazines. The cover price is $4.99 for 112 pages; a one-year subscription is $34.97 (US) or $49.97 (International). It is also available in a variety of digital formats. Check out the complete TOC, story excerpts, and additional free content at the website.
We last covered Asimov's SF here with the December 2015 issue.
See our December Fantasy Magazine Rack here, and all of our recent Magazine coverage here.