New Treasures: The Secrets of Drearcliff Grange School by Kim Newman
New Treasures: The Secrets of Drearcliff Grange School by Kim Newman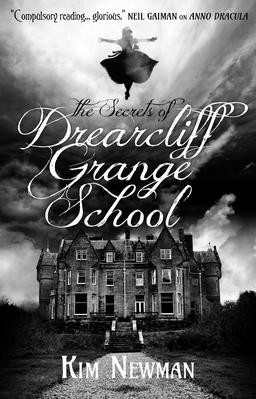 Kim Newman is the author of the classic vampire novel Anno Dracula and its many sequels (including The Bloody Red Baron, Johnny Alucard, and Dracula Cha Cha Cha).
His newest novel is a YA tale set in a boarding school for girls with supernatural abilities in the 1920s, a tale of daring adventure after lights out… and a sinister and deadly conspiracy.
A week after Mother found her sleeping on the ceiling, Amy Thomsett is delivered to her new school, Drearcliff Grange in Somerset.

Although it looks like a regular boarding school, Amy learns that Drearcliff girls are special, the daughters of criminal masterminds, outlaw scientists and master magicians. Several of the pupils also have special gifts like Amy's, and when one of the girls in her dormitory is abducted by a mysterious group in black hoods, Amy forms a secret, superpowered society called the Moth Club to rescue their friend. They soon discover that the Hooded Conspiracy runs through the School, and it's up to the Moth Club to get to the heart of it.
The Secrets of Drearcliff Grange School was published by Titan Books on October 20, 2015. It is 410 pages, priced at $14.95 in trade paperback, and $5.99 for the digital edition. The cover was designed by Amazing15.
See all of our recent New Treasures here.