Goth Chick News: You Don't Have to Go To Hell, But You Can't Stay Here – Ghost Sex Comes to TIFF
Goth Chick News: You Don't Have to Go To Hell, But You Can't Stay Here – Ghost Sex Comes to TIFF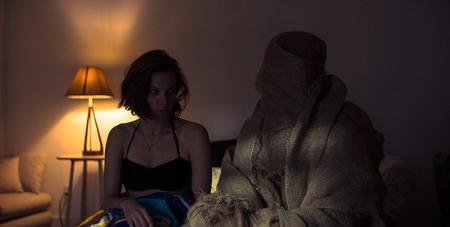 You can always count on interesting offerings from the Toronto International Film Festival. Founded in 1976, "TIFF" is now one of the most prestigious events of its kind in the world, considered second only to Cannes in terms of high-profile pics, stars and market activity.
Screening close to 400 films each season, just a few of the notables which launched at TIFF include American Beauty, Slumdog Millionaire and The King's Speech, all of which went on to win Best Picture at the following Oscars.
So perhaps we should entertain such hopes for Lace Crater, an indy film which made its debut at TIFF on Tuesday.
Being billed as a lo-fi, horror-comedy, the trailer teases the story of an awkward young woman (Lindsay Burge) who gets a sexually transmitted disease from a ghost. That's right: this woman has sex with a ghost and suffers the consequences.
And you thought your twenties sucked.
Lace Crater is the feature directorial debut of writer/director and local Chicago, Northwestern University grad Harrison Atkins. Here's the official synopsis.
All Ruth wanted was to get away for the weekend. Escaping to the Hamptons with friends after a bad breakup, she finds an unexpected connection with Michael, a stranger who shows up in her room one boozy night. They have great chemistry, and she finds herself inexplicably drawn to him. There's only one problem: Michael's a ghost, and a one night stand with him leaves Ruth with aftereffects that can only be described as supernatural. As she suffers through mucous-laden night sweats, glitchy hallucinations, and the occasional tar-black ooze, her friends become too disgusted to support her. Ruth must figure out for herself if she can reintegrate into society — or if she even wants to.
Check out the trailer.
Okay yes, Googling "STD, sex, ghost" is somewhat amusing, except to some of the people I mingle with. But I say either do it all serious like Anne Rice did in The Witching Hour or all funny, like remaking an X-rated High Spirits.
I see straight-to-Netflix in the future…
Tempted as you might be, do not post a comment about your own one night stand here, or tell me about it personally at sue@blackgate.com.