When Big Game Hunting was Glamorous: The Man-Eaters of Tsavo
When Big Game Hunting was Glamorous: The Man-Eaters of Tsavo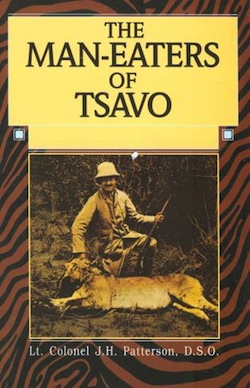 The recent scandal over the killing of Cecil the Lion has once again brought big game hunting into the spotlight, with various websites outing rich hunters who go to Africa to blow away lions, giraffes, and other animals.
Here in Spain, we had an even bigger scandal back in 2012 when, at the height of this country's financial crisis, King Juan Carlos went to Botswana and killed an elephant. He later apologized but this, plus rumors of extramarital affairs and numerous incidents of being apparently drunk in public, forced him to abdicate two years later.
There was a time when scandals like this would have never happened, when kings and commoners could empty their guns into beautiful animals free from the fear of criticism. Many wrote memoirs of going on safari, creating a genre that has all but died out today.
One of the classics of the genre is The Man-Eaters of Tsavo, by Lt. Col. J.H. Patterson and originally published in 1907. Patterson worked as the chief engineer building the Mombasa to Uganda railway in 1898. Managing a huge crew of Africans, Pathans, and Sikhs in adverse conditions to build a railroad through poorly mapped territory would have been hard enough, but soon lions started coming into the workmen's camp at night and carrying off his workers.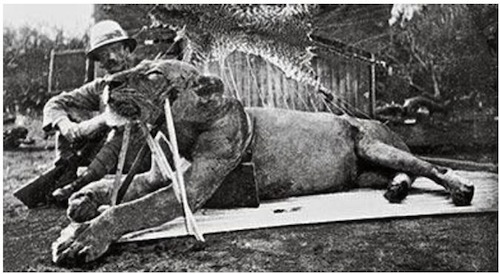 Patterson set out to exterminate these man-killers, and it proved no easy task. He would sit up in a tree overlooking the camp late into the night, but time and again the lions would pluck out an unfortunate worker from the other side of camp. The predators seemed to have an eerie ability to tell where he was, know he was a threat, and hunt elsewhere. In a couple of harrowing passages, they even stalk him!
Patterson took several months to kill one of the lions, and a short time later killed another. By then some hundred workers had been dragged off screaming into the brush to be consumed. The attacks stopped, and Patterson came to the sobering conclusion that these two lions had been responsible for all the deaths, following the workmen's camp as it progressed along the railway line.
Once his work in East Africa was finished, Patterson went home to England, where his house was adorned with two lion skin rugs made from the man-eaters of Tsavo. His memoirs of the hunt became a bestseller and remains popular to this day.
It's easy to see why. Patterson has a gripping writing style and his hunting scenes will keep you turning the pages. He also gives detailed accounts of the scenery, local cultures, and other hunts he went on while in British East Africa. The text is liberally illustrated with interesting photos of dead animals and topless natives, which sadly in the Lyons Press edition I read were poorly reproduced.
Of course this is all horribly un-PC to the 21st century reader, and many online reviewers seem to feel obliged to denounce Patterson. It makes you wonder why they picked up his book! While I didn't find myself as scandalized as when I read The Turner Diaries, I did raise an eyebrow at some of the passages. This is a book of its time, and while we may have moved on to a supposedly better mindset, Patterson's work deserves its status as a classic for its brilliant writing and the glimpse it gives into a vanished world.
---
Sean McLachlan is the author of the historical fantasy novel A Fine Likeness, set in Civil War Missouri, and several other titles, including his action series set in World War One, Trench Raiders. His historical fantasy novella The Quintessence of Absence, was published by Black Gate. Find out more about him on his blog and Amazon author's page.