White Supremacist Science Fiction: Reading The Turner Diaries
White Supremacist Science Fiction: Reading The Turner Diaries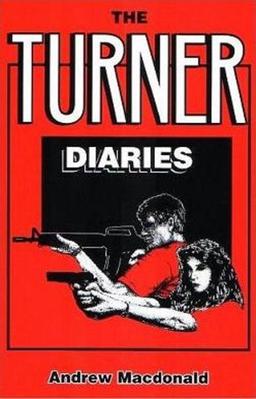 The recent attack by a white supremacist on a black church in Charleston reminded everyone that radical Muslims aren't the only terrorists out there. In fact, an FBI report studying terrorism in the U.S. between 1980 and 2005 shows there were more attacks by far-right groups than Muslim groups, even in the most recent years of that period. A study of terror attacks in the European Union reveals that less than two percent were religiously motivated. Most were either by separatist or far-right organizations.
So what motivates radical right-wing terror groups? What's their equivalent of ISIS beheading videos? While there is a large body of white supremacist videos and literature, the undisputed classic is The Turner Diaries.
This novel, written in 1978 by white supremacist activist William Luther Pierce under the pen name Andrew MacDonald, tells of a race war in the 1990s in which a group of whites called The Order overthrow the Zionist-controlled U.S. government and kill all Jews and racial minorities. The book became famous because a scene depicting the blowing up of an FBI building was eerily similar to the Oklahoma City bombing by Timothy McVeigh. Later investigation showed he had been inspired by the book, as had a short-lived racist group called The Order that committed a string of robberies and killed a Jewish radio personality. Several other white supremacist criminals have also been inspired by the novel.
While it's not proven that the Charleston shooter, Dylann Roof, had read the book, it's so well-known in the circles in which he circulated he surely must have heard of it. Curious, I decided to track it down.
I was immediately faced with a problem. While it's available on Amazon, where to my chagrin I discovered it's outselling my own novels, I didn't want anyone to profit from such a book. Luckily, a pirated edition is available for free at Archive.org and Solar General. The latter has a whole library of objectionable books free for download. Being an author myself, I'm against pirating books. I made an exception in this case and felt no guilt whatsoever.
Archive.org had a warning stating, "Ownership of this book might be illegal in the European Union, Australia, New Zealand and Canada." Living in the European Union, I realized that downloading this might go against censorship laws against hate literature.
F— that, nobody tells me what I can and can't read.
Settling in with my pirated and possibly illegal copy of The Turner Diaries, my first impression was surprise at how coherent it is. Most white supremacist literature reads like it was written by someone who flunked eighth grade English because they were too busy hiding behind the school pulling the wings off of flies. This is not to say that it's well-written. The diary format means everything is told rather than shown, and there is little characterization for the white characters and none for the minority characters. Jews and blacks are all stereotyped and identical, and no black character is even graced with a name.
The story opens with our white hero, Earl Turner, getting arrested under the Cohen law, which has banned all private gun ownership. This law is only enforced in white neighborhoods because the System is paranoid about being seen as racist and thus never goes after minority criminals. Political correctness has gone so far that rape has been decriminalized so that black rapists (which in Turner's world includes all black males) won't be oppressed for expressing their culture.
Because the System has hired too many minorities through affirmative action, it's become highly inefficient and Turner is soon released, but not before he's woken up to his true Aryan identity and the need to stop the Jews and blacks from destroying America.
Turner joins the Organization, a white resistance group that's planning to start a race war. Turner is an engineer and becomes one of their chief bomb makers. These passages are given in detail and are probably accurate, given that the author was a professor of physics.
The Organization goes on a bombing and assassination campaign and the System begins to crack down harder on the general population. There is quite a lot of guerrilla tactics and ideology covered here that will be familiar to anyone who has read Mao, Lenin, or twentieth-century military history. The Turner Diaries is first and foremost a political primer, so Pierce often stops the action to go on educational tangents.
Sometimes this indoctrination is done through editorial asides. The diaries are supposed to have been published in 2099, the centenary of the white revolution, and the future editor has to explain some aspects of twentieth-century culture. For example:
Note to reader: 'Women's lib' was a form of mass psychosis which broke out during the last three decades of the Old Era. Women affected by it denied their femininity and insisted they were 'people,' not 'women.' This aberration was promoted and encouraged as a means of dividing our race against itself.
Occasionally I nodded in partial agreement to particular statements. Not to the above paragraph, but to statements such as,
He [the average member of the public] hasn't an idea in his head that wasn't out there by his TV set. He desperately wants to be 'well adjusted' and to do and think exactly what he thinks is expected of him.
And
In their own way, the liberals, despite their pretensions to sophistication, are as mindless and as easily manipulated as the conservatives.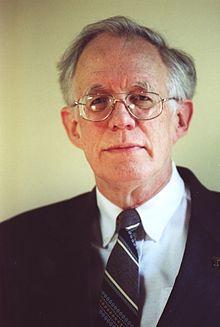 Pierce is clever to weave in some home truths to make his vile pill more palatable.
Even a stopped clock is right twice a day.
Turner proves himself on a number of missions and is brought into the Order, the secretive command of the revolution. The uprising begins to pick up, as does the author's excitement. As a writer myself, I can often tell when a writer is really into a scene. Pierce absolutely loved writing about nuking Tel Aviv and New York and probably orgasmed when he described The Day of the Rope, when all race traitors, such as liberal clergy and misegenators, are hanged. These passages are written in loving detail.
Of course, the revolution triumphs in the end. Whites the world over rise up to throw off their Zionist oppressors and kill all minorities. The Asians prove too numerous and the entire continent is saturated with chemical, biological, and nuclear weapons. Turner himself dies as a martyr, flying an airplane rigged with a nuclear device into the Pentagon.
It's all very cartoonish in a disgusting sort of way. After finishing the book I felt like I needed to give my brain a shower. I was also left wondering why anyone would swallow this.
I didn't wonder for long. Pierce did get one thing right — we live in a system that discourages critical thinking. People believe in all sorts of ridiculous things, such as astrology or Creationism, which are generally left unchallenged because these don't lead to violence. Then there are all those Facebook friends who share unsourced Internet stories or shallow memes that fit with their world view. Even most "free thinkers," proud in their rejection of mainstream media, will just as blindly follow their own brand of alternative media. It's a matter of degree rather than substance, and everyone wants to feel like they're special and carriers of the Truth despite mountains of evidence to the contrary.
The real danger, then, is uncritical thinking. When people get comfortable in their belief system and fail to continually challenge it, they become intellectual sheep. Often this is relatively harmless ("I'm special because I'm a Leo") or annoying and potentially damaging ("We must teach children that dinosaurs and humans lived at the same time"), but in its more radical manifestations ("I'm superior because of my nationality/sexuality/race") uncritical thinking can lead a young man to walk into a prayer meeting and kill nine people.
They say that eternal vigilance is the price of liberty. The same holds true for the mind.
---
Sean McLachlan is the author of the post-apocalyptic Toxic World series and several other titles, including his action series set in World War One, Trench Raiders. His historical fantasy novella The Quintessence of Absence, was published by Black Gate. Find out more about him on his blog and Amazon author's page.