Egyptian Dystopian Fiction: The Queue by Basma Abdel Aziz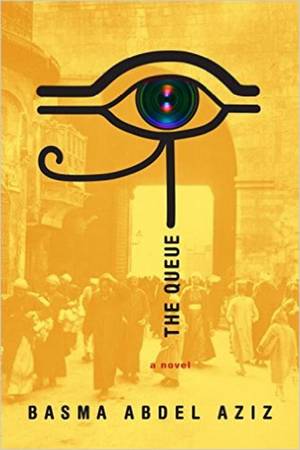 Since the Arab Spring, there has been an upsurge in dystopian fiction coming out of the Middle East. The dashed hopes of that widespread popular uprising have found their expression in pessimistic novels such as Otared, (reviewed in an earlier post) and several other notable works of fiction.
One of the most lauded in the West is The Queue by Basma Abdel Aziz, an Egyptian writer and social activist.
In The Queue, we are transported to a strange near future where the civilian government has been taken over by a faceless entity called the Gate. The Gate issues a series of edicts that become ever more baffling and hard to obey. Companies are forced to changed what they produce, individuals need to get signed forms for even the most mundane matters, and little by little the Gate forces its way into every aspect of the city's life.
The people rebel, in what the Gate refers to as the Disgraceful Events, which are suppressed with predictable police brutality. One of the casualties is a young man named Yehya, who is shot by a police officer. Yehya needs a form signed in order to have the bullet removed, but the Gate closes right after the Disgraceful Events.
As Yehya languishes, the Gate issues a continuous torrent of edicts, prompting more and more citizens to line up in front of the Gate hoping to get their forms filled out. The line soon stretches for miles, developing its own economy and culture. Street preachers rail against the citizens for their lack of faith in the Gate, shopkeepers try to make a living selling tea and snacks to the other people in line, and salesmen give away free mobile phones that are bugged.