New Treasures: Awaiting Strange Gods by Darrell Schweitzer
New Treasures: Awaiting Strange Gods by Darrell Schweitzer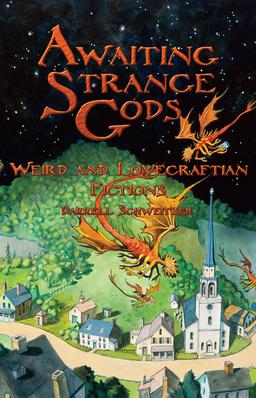 I was proud to publish two very fine stories by Darrell Schweitzer in the print version of Black Gate: the frontier horror story "A Dark Miracle" (BG 3) and the Thomas the Rhymer tale "Into the Gathering Dark" (BG 15). So I'm very pleased indeed to see a brand new collection from Mr. Schweitzer, Awaiting Strange Gods: Weird and Lovecraftian Fictions, which collects 22 tales in a very handsome package. In addition to a new introduction by S.T. Joshi, the book also contains three interior illustrations by cover artist Tim Kirk.
I'm especially delighted by Awaiting Strange Gods because it also marks the continued resurgence of Fedogan & Bremer, the Minneapolis-based weird fiction publisher that produced over two dozen fabulous volumes in the 80s and 90s, including Colossus by Donald Wandrei, Stephen Jones' Shadows Over Innsmouth and Dark Detectives, and Exorcisms and Ecstasies by Karl Edward Wagner. It's marvelous to see them active again.
Darrell Schweitzer, for 19 years co-editor of Weird Tales, is a familiar name in Dark Fantasy and fringe SF stories. But his forays into Weird/Lovecraftian got underway long after he had established his literary voice. These are very personal stories, notable for character development as opposed to HPL's cutouts against a cosmic background. 22 tales ranging from straight Mythos to Historical, and from Pennsylvania to Asia Minor. We think these tales are a treat, and you will too!
John R. Fultz produced a marvelously detailed survey of Schweitzer's weird fantasy, coupled with an interview, in "The Sorcery of Storytelling: The Imaginary Worlds of Darrell Schweitzer," published at Black Gate 'way back in 2006. Read it here.
Awaiting Strange Gods: Weird and Lovecraftian Fictions was published by Fedogan & Bremer on September 15, 2015. It is 292 pages, priced at $39.95 in hardcover, and $125 for the deluxe limited edition, with a signature page and fitted slipcase. The cover art is by Tim Kirk. There is no digital edition.