New Treasures: His Father's Eyes by David B. Coe
New Treasures: His Father's Eyes by David B. Coe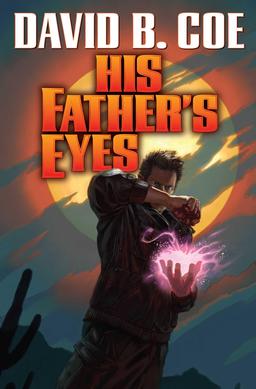 David B. Coe's adventure fantasy tale "Night of Two Moons" appeared in Black Gate 4. His three-book LonTobyn Chronicle (1997-2000) and five-volume Winds of the Forelands series (2002-07) were both published by Tor. He currently has two series on the go — under the name D.B. Jackson he writes the Thieftaker Chronicles, a historical urban fantasy, and under his own name he writes The Case Files of Justis Fearsson, a contemporary urban fantasy featuring a hardboiled, magic-using private detective.
His Father's Eyes, the second book in The Case Files of Justis Fearsson, in which Fearsson faces off against dark sorcerers in Phoenix, Arizona, was released earlier this month by Baen Books.
Justis Fearsson is a weremyste. He wields potent magic, but every month, on the full moon, he loses his mind. He's also a private detective, who can't afford to take time off from his latest investigation while his sanity goes AWOL.

A legion of dark sorcerers has descended on Phoenix, wreaking havoc in the blistering desert heat. With the next moon phasing approaching, Jay has to figure out what connects a billionaire financier and a vicious drug kingpin to an attempted terrorist attack, a spate of ritual killings, and the murder of a powerful runemyste. And he has to do it fast. Because these same dark sorcerers have nearly killed the woman he loves and have used their spells to torment Jay's father. Now they have Jay in their crosshairs, and with his death they intend to extend their power over the entire magicking world. But Jay has other plans, and no intention of turning his city, or those he loves, over to the enemy.
David's most recent blog post for Black Gate, in which he discusses the ongoing Hugo Award controversy, was Enough, Part II.
The Case Files of Justis Fearsson began with Spell Blind (2014). His Father's Eyes was published by Baen on August 4, 2015. It is 320 pages, priced at $25 in hardcover and $9.99 for the digital edition. The cover is by Alan Pollack. Read more — including a lengthy excerpt — at the Baen website.