July Issue of Swords and Sorcery Magazine Now Available
July Issue of Swords and Sorcery Magazine Now Available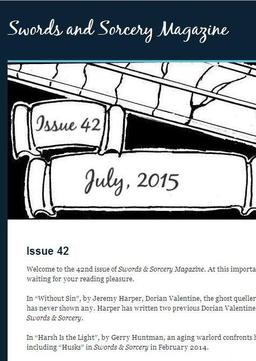 Issue 42 of Curtis Ellett's Swords and Sorcery Magazine, cover-dated July 2015, was published at the end of July. Each issue of Swords and Sorcery contains two short stories, and is available free online. This issue includes new fiction from Jeremy Harper and Gerry Huntman.
In "Without Sin", by Jeremy Harper, Dorian Valentine, the ghost queller, assists an aspiring priestess with a final task of mercy for her dying uncle, who has never shown any. Harper has written two previous Dorian Valentine stories, both published in Lore. He has previously had non-fiction published in Swords & Sorcery.

In "Harsh Is the Light", by Gerry Huntman, an aging warlord confronts his enemies, and the pain in his own past. Huntman has published many stories, including "Husks" in Swords & Sorcery in February 2014.
Read the current issue here. We last covered Swords and Sorcery Magazine with Issue #41.
Swords and Sorcery Magazine is edited by Curtis Ellett, and is available free online. Fletcher Vredenburgh reviewed issue #41 in his June Short Story Roundup.
See our August Fantasy Magazine Rack here, and all of our recent magazine coverage here.