New Treasures: Black Gods Kiss by Lavie Tidhar
New Treasures: Black Gods Kiss by Lavie Tidhar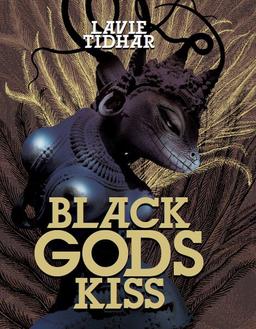 Lavie Tidhar has made a heck of a big name for himself in a very short period of time. His novel Osama won the World Fantasy Award, and his "Guns & Sorcery" novella Gorel & The Pot Bellied God won the British Fantasy Award. His novel The Violent Century was called "A masterpiece" by both the Independent and Library Journal. And his second short story collection, Black Gods Kiss, has just been nominated for the British Fantasy Award.
Black Gods Kiss is set in the same world as Gorel & The Pot-Bellied God. Theaker's Quarterly called it "Classic heroic fantasy," and Locus called it "One of the most flamboyantly entertaining collections of the year… almost the pure essence of pulp – violent, action-packed, paced like a runaway freight train, politically incorrect and socially unredeemable." Originally published as a limited edition hardcover in the UK, it is now available in digital format.
His name was Gorel of Goliris and he was a gunslinger and an addict, touched by the Black Kiss. Gorel wanted nothing more than to return to his home, the greatest empire the World had ever known, from which he was banished by sorcery as a child. But wherever he went, trouble doggedly followed, and death preceded his steps.. . In Black Gods Kiss Lavie Tidhar returns to the vivid world of his 2012 British Fantasy Award winning novella, Gorel & The Pot-Bellied God. It collects 5 long adventures set before and after the events of Pot-Bellied God, and includes a brand-new novella, "Kur-a-Len." In these pages you will find thrilling tales of guns and sorcery, filled with ghosts, mercenaries, necromancers and gods – not to mention sex, and death!
Black Gods Kiss was published in a limited edition hardcover by PS Publishing in October 2014. It was released in digital format by the Jabberwocky Literary Agency on April 30, 2015. It is 174 pages, priced at $35 in hardcover and $6.99 for the digital edition. The cover is by Pedro Marques.