Uncanny Magazine Issue 5 Now on Sale
Uncanny Magazine Issue 5 Now on Sale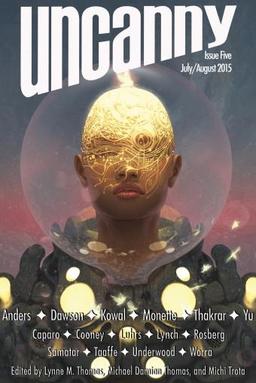 I was delighted to meet Lynn and Michael Thomas, the editors of Uncanny Magazine, at the Nebula Weekend here in Chicago. Their editorial this issue nicely summarizes all the fun behind the scenes.
The Thomases were at the Nebula Award Weekend a couple of weeks ago. Shenanigans with other authors and editors included planning a heist of the Tiffany glass dome at the Chicago Cultural Center after we were kicked out of Millennium Park for being there past closing time, many great panels, author arm wrestling at 3 am, epee with plastic spoons at 3:30 am, watching Nick Offerman delight half of the Nebula Awards audience, totally subtle Nebula Awards speeches that certainly weren't mentioning any kerfuffle, no siree (congratulations to all of the winners and nominees!), and the inaugural Uncanny Magazine Space Unicorn Contributors Pizza Party.

The pizza party was especially fun, with eight or so contributors to Uncanny Year One, the editorial team, and a Kickstarter Backer and his wife who purchased the meal as a backer reward eating delicious Chicago pizza together in our Palmer House hotel room while Caitlin hooted and hollered. One of the things we love about conventions is spending time with the phenomenal creators who we work with online. We know they're talented and creative from their work, but it's a blast to find out how they're genuinely warm, funny, good people.
The July/August issue keeps the Uncanny success story going, with original fiction from Mary Robinette Kowal, E. Lily Yu, Shveta Thakrar, Charlie Jane Anders, Sarah Monette, and Delilah S. Dawson, a reprint by Scott Lynch, nonfiction by Natalie Luhrs, Sofia Samatar, Michael R. Underwood, and Caitlín Rosberg, poems by C. S. E. Cooney, Bryan Thao Worra, and Sonya Taaffe, and interviews with E. Lily Yu and Delilah S. Dawson, all under a cover by Antonio Caparo.
Here's the complete fiction contents:
"The Rainbow Flame" by Shveta Thakrar
"Woman at Exhibition" by E. Lily Yu
"Midnight Hour" by Mary Robinette Kowal
"Ghost Champagne" by Charlie Jane Anders (available Aug 04, 2015)
"The Half-Life of Angels" by Sarah Monette  (available Aug 04, 2015)
"A Year and a Day In Old Theradane" by Scott Lynch  (available Aug 04, 2015)
"Catcall" by Delilah S. Dawson (available Aug 04, 2015)
All that, and two podcasts:
Episode 5A: Editors' Introduction, Mary Robinette Kowal's "Midnight Hour" (as read by Amal El–Mohtar), C.S.E. Cooney's "The Saga of Captain Jens" (as read by the author), and an interview with Mary Robinette Kowal conducted by Deborah Stanish.

Episode 5B: Editors' Introduction, Charlie Jane Anders's "Ghost Champagne" (as read by C.S.E. Cooney), Sonya Taaffe's "Σειρήνοιϊν" (as read by Amal El–Mohtar), and interviews.
All of the content is now available for purchase as an eBook (PDF, EPUB, MOBI). The free online content will be released in 2 stages — half now, and half on August 4.
Issue #5 is cover-dated July/August 2015. Read issue #5 here.
We last covered Uncanny Magazine with Issue #4.
Uncanny Magazine is edited by Lynne M. Thomas, Michael Damian Thomas, and Michi Trota, and published bi-monthly. The issue is priced at $3.99, and is available as an eBook (PDF, EPUB, MOBI). eBook Subscriptions are available at Weightless Books.
See our late June Fantasy Magazine Rack here, and all of our recent magazine coverage here.