Vintage Treasures: Over the Hills and Far Away by Lord Dunsany
Vintage Treasures: Over the Hills and Far Away by Lord Dunsany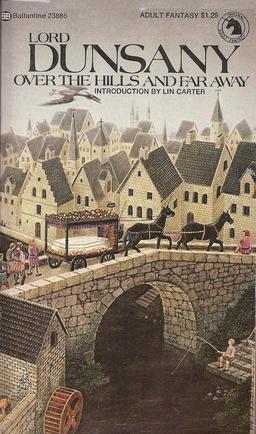 Over the Hills and Far Away is my favorite Dunsany collection, and the Ballantine Adult Fantasy edition, edited by Lin Carter and published in 1974, is my favorite edition.
Yes, some of that has to do with the gorgeous wraparound cover by Gervasio Gallardo (see the original painting here). But I think most of it has to do with Lin Carter's attitude as an unabashed Dunsany fanbody, and the passion that comes across throughout the book. This is a man who was arguably the most respected voice in fantasy in the mid-Twentieth Century, and his admiration for Dunsay was second to none. Here's a bit from his introduction:
Lord Dunsany is probably the greatest fantasy writer who ever lived. Quite a few of the most distinguished writers of fantasy have made a similar judgment of his work. James Branch Cabell, for example, praised Dunsany's craftsmanship in glowing terms. H.P. Lovecraft adored Dunsany's early Book of Wonder tales, and paid them the highest compliment of direct imitation (as I also have done in my little fables of Simrana the Dreamworld). In fact, Lovecraft wrote several pieces about Dunsany's work, which he considered superlative. I think Clark Ashton Smith might also have concurred with my estimate of Dunsany, and perhaps Jack Vance and Fritz Leiber would agree as well…

In the pages of this book I have brought together twenty-five of his finest fantasy stories, as well as one major novella, or short novel. Also included are two of his most brilliant and fantastical plays, four of his short-short stories, and (just to give you a balanced and comprehensive view of his entire literary career) four of the later short stories concerning Mr. Joseph Jorkens, the world traveler and noted clubman.
Over the Hills and Far Away was edited by Lin Carter and published by Ballantine Books in 1974. It is 234 pages, priced at $1.25. The cover is by Gervasio Gallardo. It is part of the groundbreaking Ballantine Adult Fantasy series, which Keith West is current examining for us in detail; his most recent article was Dragons, Elves, and Heroes.