Adventures In Cards: Munchkin!
Adventures In Cards: Munchkin!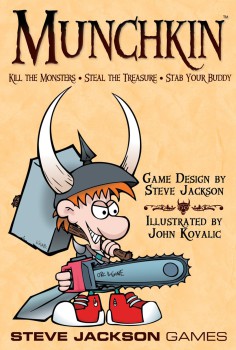 How was my day, you asked? Well, I'll tell you. My Halfling wizard and I spent the last hour fleeing from a Gazebo, leveling up by way of a Drooling Slime, and staying alive by means of the Kneepads Of Allure and a (basic but useful) Huge Rock.
What on earth could cause such havoc and silliness? Surely not Dungeons & Dragons?
Nope. It's D&D's hell-spawn little brat of a brother, the card game Munchkin. Now possibly I'm late to the table on this (I often am), but Munchkin has to be the geekiest, most asinine, not to mention juvenile, card game going. It's also a diverting homage to AD&D, and better yet, it makes both kids and grown-ups laugh.
Consider Munchkin's very own press: "…the mega-hit card game about dungeon adventure… with none of that stupid role-playing stuff."
Of course D&D remains a clear progenitor, and possibly Munchkin owes something to Magic: the Gathering, but it strikes me that Munchkin's most direct sire is a horse of a very different color, the irreverent and insouciant Killer Bunnies, which, if you've never played it, is a must for any gaming fan's bucket list.
That said, you'll need a lot of patience (or a sensai) to figure out how to play Killer Bunnies. But. Once you've "mastered" this obscenely complicated, impossible-to-predict killing spree of a game, enjoyment and strategy abound. I'd even be willing to state in a court of law, no less, that killing rabbits has never been so pleasurable, or so downright wicked neat. After all, who wouldn't want to do in a (purple) Congenial Bunny while wielding a piece of flying burnt toast?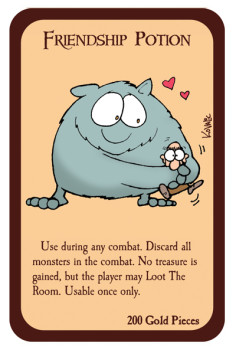 Munchkin does score points over Killer Bunnies in four distinct ways. First, it's much simpler. Second, it references role-playing and not the whole adult world, so kids are more apt to get the jokes. Third, it's not subtle, which is almost the same as point the second, but not quite: consider that one of Munchkin's cards features a monster called a Pukatchu, which if you pronounce it just right, is both a rip-off of Pokemon AND a gross pun that will surely send boys under the age of, say, thirty, into helpless hysterics.
Finally, in Munchkin, you can actually win via your skill in deploying cards. Sure, your opponents may rupture, slag, or debuff all your best laid plans (I miss you, Robbie Burns!), whereas in Killer Bunnies, the eventual winner is left, by diabolical design, entirely to chance.
A gentle word of warning for anyone considering taking the Munchkin plunge, which is a lot like the Polar Bear Plunge but not as wet, the game was clearly designed by counter-culture, left-wing zealots out to pollute your children's minds. Consider the frequent drug references. In tonight's game, the first two cards played were the Stoned Golem and (I kid you not) the Snails On Speed. After my fourteen-year-old casually noted that the golem appears to be holding a large blue bong, I asked him what he thought his school D.A.R.E. officer would think of this game – or of a happy family playing it. Both my boys burst out laughing, and more or less refused to answer the question.
Possibly I'm not being fair. Munchkin has a lot of cards, and only two (to my knowledge) are directly thumbing their noses at drug (or anti-drug) culture.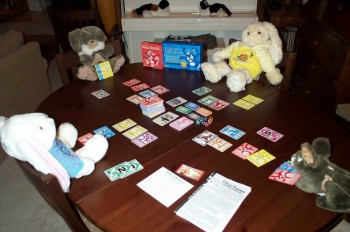 Either way, beware. Here there be dragons, yes, but also a lot of snide references aimed at society in general. For my money (thank goodness, our box of Munchkin was a gift, so it cost me nothing), it's all in good fun. After all, what other game has a card called "Bribe the GM With Food"? Doubly funny, that card, since there's no GM in Munchkin. Triply funny, because if there were, that gambit would work.
Yes, the game has become wildly popular.
No, I don't work or shill for Munchkin or its parent company, which I am too lazy to even look up.
Yes, there are expansion packs.
And yes, children whose feelings are easily bruised will find Munchkin hard to take. Like Killer Bunnies, the rules invite debate, and "characters" can and do die. Conflict rears its head. On the plus side, conflict—and dealing with it—is all part of growing up, so break out the Plutonium Dragon, that's what I say, and have at thee! I shall defend myself with the Flaming Armor and the ever popular Rat On a Stick!
I hope I make it.
Onward.
---
Mark Rigney has published three stories in the Black Gate Online Fiction library: "The Trade," "The Find," and "The Keystone." Tangent called the tales "Reminiscent of the old sword & sorcery classics… once I started reading, I couldn't stop. I highly recommend the complete trilogy." Also available at Black Gate is his serialized novel, In the Wake Of Sister Blue. The first installment may be found HERE.
Away from Black Gate, he is the author of the supernatural quartet, The Skates, Sleeping Bear, Check-Out Time, and Bonesy, all published by Samhain and featuring his semi-dynamic duo of Renner & Quist. His short fiction has been nominated for a Pushcart Prize and has appeared in Unlikely Story, Betwixt, Black Static, The Best of the Bellevue Literary Review, Realms of Fantasy, Witness, The Beloit Fiction Journal, Talebones, Not One Of Us, Andromeda Spaceways Inflight Magazine, Lady Churchill's Rosebud Wristlet and many more. In other work, Rigney is the author of the plays Ten Red Kings, Acts of God and Bears, winner of the 2012 Panowski Playwriting Competition, as well as the non-fiction book Deaf Side Story: Deaf Sharks, Hearing Jets and a Classic American Musical (Gallaudet). Two collections of his stories (all previously published by various mags and 'zines) are available through Amazon, Flights of Fantasy, and Reality Checks. His author's page at Goodreads can be found HERE, and his website is markrigney.net.