Your Greatest Fan
Your Greatest Fan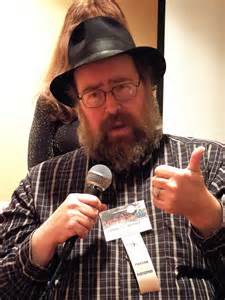 John C. Wright, the author of the Children of Chaos and Count to Eschaton series (among others), recently put up a post on his blog which contains the most sublime encouragement I've ever seen offered from one writer to another. I'll admit that I felt a mist of manly tears come to my eyes while I read through his words.
If you've ever written, or considered writing, you owe it to yourself to read his post: "The Brazen Author of the Book of Gold."
Wright includes some musings on the Muse at the end, but the beating heart of the post is the offset section.
He received a letter from a fan who said that the quality of Wright's books had made him despair of ever writing anything good enough to be read, and thus put aside his ambitions. Wright responds, in part:
I know you mean it as a compliment, but my prose appeals, and is only meant to appeal, to a narrow audience.

If you are in that audience, I am very grateful.

But I will tell you my version of your story [about the scarf]. I was a bookish child, friendless, unhappy. In my youth, I read a book my David Lindsay.

If an adult read it, he would say that this book was written in an awkward, tin-eared fashion, with a main character who is a cipher without personality, on an adventure that makes no sense. There is no plot to the book: the hero travels through strange landscapes meeting stiff and highly symbolic figures, committing apparently pointless murders.

The book was not well regarded then or now. It sold less than 200 copies in its first printing. The writer Lindsay, who has been largely forgotten, died young in utter poverty of a disease caused by improper dentistry, that is, something that could have been easily prevented.

The book is A Voyage to Arcturus and it is one of the most important books in my life.

It shaped my youthful and hence my lifelong idea of what life was for and what reality was about.

It was magical to me, the very wine of the gods.

And yet, to everyone else, even perhaps to the man who wrote it, it is an incomprehensible, opaque, meandering, pointless book. In the eyes of the world, it is a worthless book.

Now, imagine that you are Lindsay and some child who will not be born for 40 years after your death is the only one who will read and understand and treasure your book — the book you think is lousy — is in my position.

Myself, I have more pity for that child, yet unborn, who will be your greatest fan, than I have for Lindsay, had he burned his computer, and decided not to write.

Do you understand? I cannot write the book that one child needs. You can.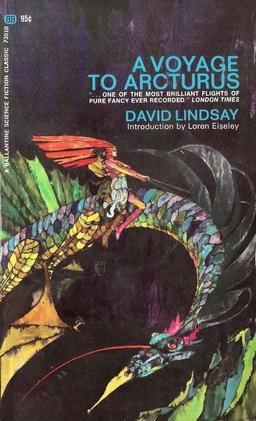 Reading that makes me remember how important The Queen of Attolia by Megan Whalen Turner was to me in my early teens, or how Andre Norton's Brother to Shadows feels written on my heart to this day, it being the only book I bought a second copy of just to have one to read and one to loan.
It makes me recall how Gene Wolfe's Long Sun novels seemed (and still seem) written directly to me.
And reading those words make me want to write, in the hope that somewhere, at some time, one of my stories could become someone's treasured book.
---
Sean T. M. Stiennon is a writer, martial artist, and doer of mighty deeds who makes his home in Madison, Wisconsin. He has much to learn.