Editing Indie Comics and Editing Marvel Comics: The Different Worlds of Heather Antos
Editing Indie Comics and Editing Marvel Comics: The Different Worlds of Heather Antos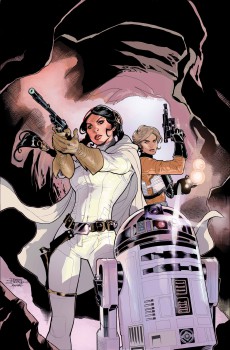 I've had a chance to e-chat with Marvel Comics editorial staff Xander Jarowey and Jake Thomas, as well as the indie comic creators from Mirror Comics. Now, I'm e-sitting down with Heather Antos, a newly-minted Assistant Editor at Marvel who also spent a year editing indie comics.
Heather got noticed by Marvel with her biggest indie credit, a comic anthology called Unlawful Good: An Anthology of Crime, which mixed together the innovations of creator-owned, anthology format, and Kickstarter crowd-funding. Crowd-funding takes a lot of work; check out its completed Kickstarter page and youtube promo video.
Kickstarter in prose as well as in comics is still relatively new as a business model, so New York Comic Con invited her to speak on a panel, which led to her hiring as assistant editor on Night of the Living Deadpool, Star Wars, Darth Vader, Deadpool and others.
---
So, some of your indie editor work still hasn't come out yet. Are you able to talk about any of those works? Can you talk about Unlawful Good and how that was different for the industry?
Sure! My time in the industry as an editor is actually quite short. It was a little over a year ago that I began freelance editing. In fact, the whole point of UNLAWFUL GOOD was a bit of an experiment with myself to see even if comic editing was something I was capable of (I was a recent college grad trying to find 'my place in the world').
Around this time I began editing a two-part romance story called Épilogue (written by Mario Candelaria, drawn by David Ganjamie and Nathan Schreiber) as well as the ongoing dystopian series Stronghold (written by Brian Visaggio with art by Kevin Roberts). Since then I've worked on a number of different projects, from proofreading pitches to building pitches, short anthology pieces to one-shots like Andrew Jackson in Space (written by Brian Visaggio and drawn by Jason Smith), with a handful of ongoing projects scattering the radar here and there.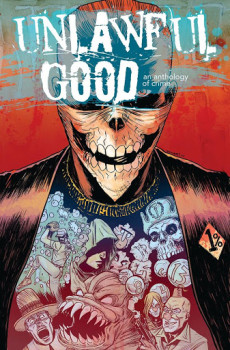 First and foremost, UNLAWFUL GOOD is an anthology – something that we don't see a lot of in the industry these days. Publishers and distributors tend to see anthologies as big risks and therefore don't like to incorporate them into their businesses – which is interesting considering the amount of love for them consumers have as can be seen by their popularity in the independent community (i.e. In the Deep, Fresh Romance, and the new Broken Frontier Anthology).
The purpose of UNLAWFUL GOOD: An Anthology of Crime was to get creators and readers to ask themselves the question: What is crime? The definition of crime varies from continent to continent, country to country, person to person. "Right" and "wrong" isn't necessarily as easy to discern as "black" and "white." I also wanted to explore the different genres of crime. Crime anthologies from 'back in the day' – or even some more recent takes – seem to entirely focus on the noir genre. This is fine, of course, but there are so many more stories you can tell. The entire 188-page book features 17 different short crime-focused comics by nearly 50 creators from around the globe, ranging in genres from horror to historical, comedy to drama, sci-fi to noir.
Your comment about the risk of anthologies is interesting. On my side of the industry (scifi short story markets), I often hear the same thing – people love anthologies, but their sales numbers are not all that publishers might want. Do you think the same thing is at play in the minds of comics publishers? Marvel had a long-running anthology series Marvel Comics Presents – maybe the risk is also in the difference between using established characters and new properties?
When it comes to anthologies, I think it comes down to them being hard to market. It's easier with established characters, sure, but it's still difficult. And if it's difficult to market I'm sure that that makes it a scary sell on a publishers behalf. That being said, I've always been a huge fan of anthologies and I love the ones I've found on Kickstarter throughout the past few years. I hope they stick around!
So you're an assistant editor right now on Jordan White's books, where you have a lot of production roles, and some creative input too. Was your editing role in the indie comic world similar?
When one is brought on as a freelance editor it's a work-for-hire position. The creator is the boss. So even though I would be brought on to a particular project to give notes regarding story, script, art, etc, it was ultimately up to the creators to choose whether or not to go with the notes given to them. But I'd say my main role in the freelance editing world was mainly creative input on story and art, working with the creators to put forth the best work they could.
As for production work, moving files around was more so up to the creators. I would make sure that things line up correctly for printing, set schedules if need be, things like that, but it was the writer's job to insure his script and notes made it to the artists. Side Note: For comparison, check out my interviews with Xander Jarowey and Jake Thomas where we went into the roles of editors at Marvel in more depth.
The big difference between Marvel and indie comics is that for Marvel part of your job is to be a custodian of beloved characters and the creative teams are working in a world they didn't create, whereas in the indie world, you were working with creator-owned works. How did that change your responsibilities and the focus of your concerns?
If anything changed it was that since now I'm working in the Marvel and Star Wars universes there's years of history and character already developed. But at the end of the day whether you're editing Batman or The Avengers, The Walking Dead or Chrononauts, the editor's sole goal is to put out the very best book possible.
Editors at Marvel have a creative role in guiding the stories. With creator-owned works in indie comics, is there any creative role for the editors, or does the job focus on the production aspects?
Ultimately it depends on the job the editor is hired for. To different creators the word 'editor' means different things. For some projects I was hired on merely as a proofreader. Other projects were to compile the pages and books into final proofs for web-publishing and printing. But the majority of my work was story-editing and art related. Definitely there was a lot of creative input – I love brainstorming with creators to help them create the best story they can. That's an editor's job, after all. But at the end of the day, the stories were always guided by the creators and not the editor in the independent realm.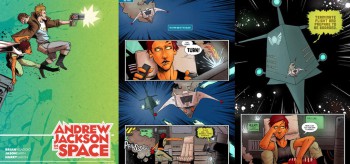 What was your favorite part of editing indie comics and what's your favorite part of editing at Marvel?
Working on indie comics is definitely a lot of fun. The best part was getting work on all sorts of different stories from nearly any genre one could think of. I mean, I worked on a comic called Andrew Jackson in Space!
In the indie comic world literally any story you want to tell is possible – and can be made possible. I got to work on a number of stories ranging from horror to historical to romance to sci-fi and so on. Hands down my favorite part about editing at Marvel is getting the opportunity to work with characters whose stories I have been following since I was a little kid. I grew up surrounded by comic book characters and spent many days on the playground acting out their stories – 5-year old 'me' made a killer Rogue on the playground! These characters have inspired and touched millions of people across the entire world – whether it is giving someone a smile on a bad day or inspiring hope in a time of need – and it's a huge honor to be able to have a hand in telling these stories.
Thanks very much for the chance to chat, Heather!  And for blog readers, if you want to check out Unlawful Good: An Anthology of Crime, it will be available as of June 1st from dudewhatcomics.bigcartel.com. If you want to check out any of Marvel's new Star Wars series or Deadpool's wackiness, check out Marvel.com or Comixology.com.
---
Derek Künsken is an award-winning writer of science fiction, fantasy and horror. He tweets about scifi, fantasy, science and comics from @derekkunsken. His latest story, Pollen From a Future Harvest, appears in Asimov's Science Fiction which is on the stands on May 26th, or is available in e-book (Nook) form at B&N.