Future Treasures: Oathkeeper by J.F. Lewis
Future Treasures: Oathkeeper by J.F. Lewis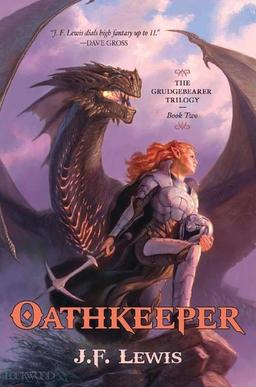 Oathkeeper, the second novel in J.F. Lewis's Grudgebearer Trilogy, will be published in early June by Pyr. It's an intriguing series that features carnivorous elves, sentient armor, plant people, a newly ascended god, and much more. As Dave Gross puts it, "J.F. Lewis dials high fantasy up to 11."
Rae'en has taken the place of her father, Kholster, as First of the practically immortal Aern, a race created by the Eldrennai as warrior-slaves to defend them from the reptilian Zaur. Freed from all Oaths by Kholster's death, Rae'en decides to wage war on the Eldrennai.

Prince Rivvek must claim the Eldrennai throne by completing the Test of Four so he can save as much of his kingdom as possible. Meanwhile, his brother, Prince Dolvek, hatches a plot to enlist the aid of the plant-like Vael to defeat the Zaur horde, who mean to take advantage of the strife between the Aern and Eldrennai.

The inevitable war between the Eldrennai and the Zaur begins, with the Aern an unpredictable force that could save the Eldrennai – or doom them. Torn by rage and grief, Rae'en must decide who is worthy to keep her people's Oaths.
J.F. Lewis is also the author of the Void City series of urban fantasy novels from Pocket Books, composed of Staked, Revamped, Crossed, and Burned, about a vampire who runs a strip club.
Oathkeeper will be published by Pyr Books on June 9, 2015. It is 381 pages, priced at $18 in trade paperback and $11.99 for the digital edition. The cover is by Todd Lockwood. Learn more at J.F. Lewis' website.