Adventures in RPGs: Long Arc or Short Arc?
Adventures in RPGs: Long Arc or Short Arc?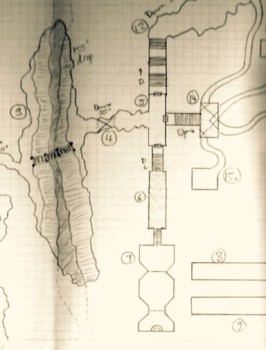 AD&D carried me from middle school right through college, and about seventy-five percent of the time, I wound up as the referee. The core group with whom I played continued right on getting together for another fifteen years or so after graduation, engaging in annual reunions all over the country.
And I kept right on refereeing. After all, I had unfinished stories to "tell." These story arcs played out over weeks, months, semesters, and then years. Many remain unfinished to this day. In the main, the rest of the group enjoyed my epic, often convoluted approach. For better or for worse, we weren't much for hack-and-slash, in-and-out heroism.
Or were we? I'll never forget Eric S. musing, as one reunion year wound down, that it sure would be nice if for once we could storm the castle, rescue the maiden, and be done.
His wistful comment stemmed in part from my having that very year posed a variant on that longed-for maiden-in-the-tower paternalistic standby: Orcus hired the party to rescue a damsel in distress, but this particular blushing violet turned out to be a truly enormous, deformed frog that had to be kissed in order to… well. Let's just say there aren't enough kisses in creation to make the wife of Orcus any more desirable.
Plus it took about forty hours of gaming to even find her, with lethal battles and tricky riddles littering the way.
Here's the rub. What Eric S. was really getting at was the attraction of simplicity. The pleasure in avoiding gray areas and loose ends. The deep satisfaction that comes from a streamlined, manageable story line. Remember that short-lived 'zine from a few years back, Bust Down the Door and Eat All the Chickens? They knew exactly what I'm getting at, although gaming might translate that title to, "Bust down the door, kill the orc guards, rescue whoever needs rescuing, and go home — probably to a cheering populace, a parade, and a debauched celebration banquet."
It seems to me that a major factor in the success of a gaming group — perhaps the single most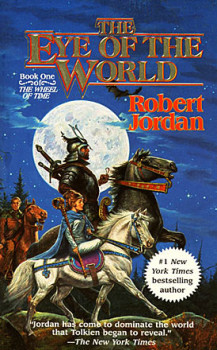 important factor, after basic compatibility — is striking the right balance between grand, complex long form story arcs and punchy, short form scenarios.
Consider: what do you want in your gaming life? "The Tower Of the Elephant," over and done with in a few short pages, or The Wheel Of Time, where the narrative splays all over the cosmos and the word count (not to mention the body count) gets reckoned in the trillions?
Neither is wrong; both are valuable. But what's the tenor of your group?
While working at Crown Books in Los Angeles (back at the dawn of time), two of my fellow clerks got wind of my predilection for D&D and asked me to ref a campaign for them. In the end, we met only once, for all of three hours. Apparently they'd expected to be nuking trolls inside of five minutes, like Kill Bill Part One. When that didn't happen, they found something else to do — like, I don't know, watch re-runs of Friends.
I was dismayed, of course — didn't they know that character generation takes time? — but they weren't wrong to want what they wanted. I was simply the wrong referee to provide it. I desired a story first. I wanted people inhabiting and enlarging their pencil and paper character sheets. I valued goals, and I wanted my players to be the ones to come up with those goals, to be proactive in their imaginary lives.
When they didn't or couldn't bring that energy, I was stymied. The story I'd hoped to send them toward had no way to develop, and our nascent troupe floundered.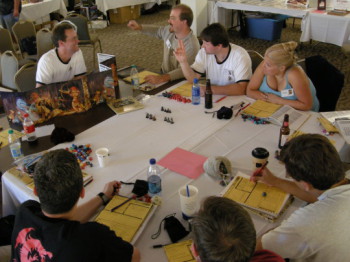 What I should have had ready was a violent and sudden backup scenario, something to spring on them if they started to yawn. Bandits, maybe. A troop of rabid baboons. Killer tape worms. Almost anything would have sufficed.
Myself, I lean toward longer arcs for two reasons. First, it's my conviction that diffuse scenarios are more compelling as stories. I believe they're richer, more redolent of real life (and I say this knowing full well that very often, we engage in RPGs as a way to escape "normal" life).
Second, role-playing games (D&D, etc.) trend toward digression and complication. The arcane rules contribute to this, certainly, but the real culprit is human psychology: players almost always find ways to do the unexpected, which not only delays any rush toward a neat, tidy conclusion, but often opens up entire new storylines — some of which cry out to be developed, returned to, explored. D&D sprawls because we sprawl our way through it. The job of the DM is and has always been to steer the characters' ship toward the most interesting ports of call.
I recall one scenario, early in high school, that took all summer to complete — and we played a lot that year. Another, a collegiate adventure that involved tracking down a number of powerful artifacts that might (might!) make it possible to defeat the world's largest dragon, required something on the order of two years with an average of over twelve hours of gaming per week.
I like to think I sprinkled shorter, more achievable scenarios into the larger matrix, but I can't honestly be sure. Time muddies memory, especially mine.
So where do you stand on this spectrum of interest? Are you all in for the long-haul adventure, the
kind that might be inconclusive, the type that tends to allow for morasses both temporal and moral, or are you the player that champs at the bit for clear, achievable goals and constant doses of roll-the-dice ultra-violence?
Whatever your response, check back again in two weeks' time. John O'Neill and I are cooking up a whole new Black Gate featurette, an actual original online dungeon module. Yes, that's right: the map, the scenario, the key, you name it. An adventure you can run on your own, any ol' time… and it'll be FREE.
Like the sound of that?
I know I do.
But I'd better get to work. These ancient scrolls need translating, and the maps had better be re-copied ere they fall to dust and tatters…
Onward.
---
Mark Rigney has published three stories in the Black Gate Online Fiction library: "The Trade," "The Find," and "The Keystone." Tangent called the tales "Reminiscent of the old sword & sorcery classics… once I started reading, I couldn't stop. I highly recommend the complete trilogy." In other work, Rigney is the author of "The Skates," and its haunted sequels, "Sleeping Bear," and Check-Out Time. A new novel, Bonesy, will be released Sept. 1, 2015. His website is markrigney.net.