Fantasy Scroll Magazine 6 Now Available
Fantasy Scroll Magazine 6 Now Available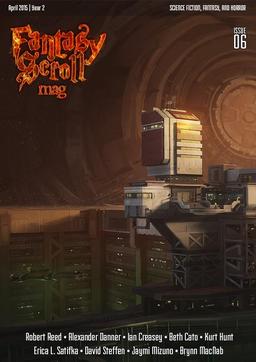 The sixth issue of the online-only Fantasy Scroll Magazine is now available.
Fantasy Scroll was launched with a Kickstarter campaign on April 23, 2014. It raised enough to fund a full year (four issues); all four issues were released last year, as promised. Since then it's been continuing nicely under its own steam. It has supported itself by selling merchandise, launching a mobile app, soliciting donations — and through a Starlight Patrol of enthusiastic backers and supporters at Patreon who help keep the magazine going.
The previous issue was cover-dated February 2015; this one is April 2015. It seems to have switched to bi-monthly publication, which is great news.
Fantasy Scroll has published original short fiction by Sarah Avery, Ken Liu, Mike Resnick, Piers Anthony, Cat Rambo, Rachel Pollack, and many others. The magazine is edited by Iulian Ionescu, Frederick Doot, and Michelle Muller. It contains all kinds of fantastic literature, including science fiction, fantasy, horror, and paranormal short-fiction.
Issue #6 includes nine short stories from Robert Reed, Ian Creasy, Beth Cato, and others, plus interviews and a handful of book and film reviews.
In his editorial, Iulian Ionescu reports that the magazine is experimenting with publishing longer stories (novelettes) for the first time.
I'm happy to present you with what I believe might be our longest issue so far. No, it's not a double issue, it's a regular issue, but the first story in the fiction section is actually a novelette. This is something new that we are trying out (we have another novelette scheduled for Issue #7). Does this mean that we are now accepting longer pieces? Not exactly. The novelettes will be published exclusively on a request-only basis, and at this point it's not entirely sure if we will continue with them after Issue #7.
Here's the complete table of contents.
Fiction
Raven's Dream by Robert Reed
Jenny is Killing Turtles Again by Alexander Danner
The House of Ninety-Nine Secrets by Kurt Hunt
The Adventures of Captain Contempt in Mixed Media Installations by Ian Creasey
My Brother's Keeper by Beth Cato
Hand of God by Erica Satifka
Meat by David Steffen
Fortune's Dance by Jaymi Mizuno
Nixie's Rival by Brynn MacNab
Non-Fiction
Interview with Robert Reed
Interview with Erica Satifka
Interview with Ellen Datlow
Artist Spotlight: Franklin Chan
Book Review: The Grace of Kings by Ken Liu
Book Review: Half The World by Joe Abercrombie
Movie Review: 2001: A Space Odyssey by Stanley Kubrick
See the complete contents of the issue here.
Fantasy Scroll Magazine is edited by Iulian Ionescu, Frederick Doot, and Alexandra Zamorski, and published bi-monthly in Mobi, epub, and PDF format; issues are also for sale through Amazon, B&N, Smashwords, Kobo, Weightless Books, and Google. Individual issues are $2.99, a 4-issue subscription is only $9.99. Learn more at their website. The cover this issue is "Mars Station" by Franklin Chan.
We last covered the magazine with issue 5.
See our April Fantasy Magazine Rack here, and all of our recent magazine coverage here.