April 2015 Nightmare Magazine Now on Sale
April 2015 Nightmare Magazine Now on Sale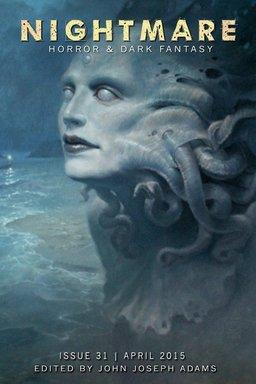 The April issue of the online magazine Nightmare is now available.
One of the things I most enjoy about Nightmare is its broad focus. Editor John Joseph Adams delivers all kinds of dark fantasy within, from zombie stories and haunted house tales to visceral psychological horror. Fiction this month is:
Original Stories
The Island by Desirina Boskovich
Spring Thaw by Charles Payseur

Reprints
Ishq by Usman T. Malik (from Black Static 43, Nov 2014)
The Age of Sorrow by Nancy Kilpatrick (from Postscripts, Spring 2007)
The non-fiction this issue includes the latest installment "The H Word," Nightmare's long-running horror column, plus a feature interview with Richard Chizmar, the man behind Cemetery Dance, as well as author spotlights, and a showcase on this month's cover artist.
Editorial, April 2015 by John Jospeh Adams
The H Word: Dropping the Vial by Seanan McGuire
Artist Showcase: Dariusz Zawadzki by Marina J. Lostetter
Interview: Richard Chizmar
See the complete contents of the issue here.
Nightmare is edited by John Joseph Adams. The mighty Patty Templeton interviewed him for us here. He has been nominated for the Hugo Award 8 times. He recently became the editor of the new Year's Best series, The Best American Science Fiction & Fantasy. The first volume will be published by Houghton Mifflin Harcourt this October.
This is the 31st issue of Nightmare. Subscriptions are available for just $1.99 per issue, single issues are available in multiple digital formats for $2.99. Purchase copies and sample free content at the website. The cover this month is by Dariusz Zawadzki.
We last covered Nightmare with the March 2015 issue.
See our April Fantasy Magazine Rack here, and all of our recent Magazine coverage here.