Philip Sandifer's Guided by the Beauty of Their Weapons: An Analysis of Theodore Beale and his Supporters
Philip Sandifer's Guided by the Beauty of Their Weapons: An Analysis of Theodore Beale and his Supporters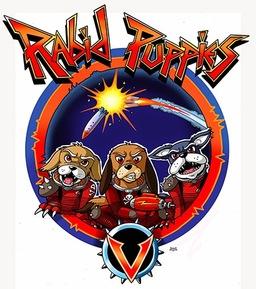 Author Philip Sandifer (The Last War in Albion, TARDIS Eruditorum) has a fascinating take on the ongoing 2015 Hugo controversy, pointing out that debating with the Sad Puppies is a waste of time — not because they don't have a point, but because they are largely irrelevant. Theo Beale's Rabid Puppies slate largely dictated the outcome, and it's Beale 's agenda that will shape the outcome in future years.
Relatively unreported — and indeed misreported in most coverage of this, is the fact that the Sad Puppies largely failed… In the only category in which both Beale and Torgersen proposed full slates, Best Short Story, Beale's nominees made it.
Sandifer's thesis is that the Sad Puppies, and the groundswell of fans who've gathered to support it, are the popular face of a much more tightly controlled effort by Theo Beale.
As we've seen, it's not really Torgersen who is most important here; it's Theodore Beale…. The Rabid Puppies were the slate that actually dominated the Hugos nominations, but the Sad Puppies give every appearance of having been actively constructed to allow them to… Regardless of Torgersen's intentions, the practical result is that he's providing the politely moderate front for a movement that is in practice dominated by Theodore Beale…

Torgersen makes much of empowering fans, saying that the slate "is a recommendation. Not an absolute," and stressing that "YOU get to have a say in who is acknowledged." Beale, on the other hand, discourages his readers from exercising any personal preference, saying of his recommendations that "I encourage those who value my opinion on matters related to science fiction and fantasy to nominate them precisely as they are."
Read the complete article here.