Adventures In Straw Polls: Fear, Lovecraft, and Me
Adventures In Straw Polls: Fear, Lovecraft, and Me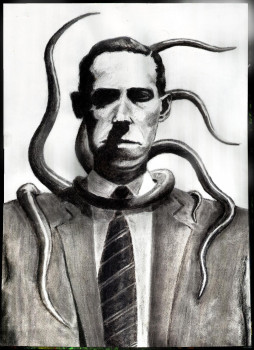 Once upon a time, H.P. Lovecraft, he of the vaunted Cthulhu party set, set down his principles for crafting scary stories. He opined that terror is the oldest and most basic emotion available to humankind, and then went further, stating that those things unknown to we mortals are that which are most fearsome. His exact phrase, from the essay "Supernatural Horror In Literature," (last revised 1935) reads: "The oldest and strongest emotion of mankind is fear, and the oldest and strongest kind of fear is fear of the unknown."
I disagree.
So far as I can discern, it's the fear of what is known (or at least readily imagined) that is most terrifying. For example, being wounded and then dismembered by a lunatic straight out of The Texas Chainsaw Massacre or Hostel, or being attacked by a shark while swimming.
Curiously enough, I'm getting set to either torpedo or defend this idea in public. I've been asked to be on a panel at April 25th's Ohioana Book Festival in Columbus, Ohio. The panel topic is "Horror, Suspense, and the Supernatural," and my fellow panelists include Julie Flanders, Debra Robinson, and all-around horror vet Tim Waggoner, with whom I share a publisher (Samhain).
Some brave audience member is sure to ask "What is horror, anyway?" even though "What isn't horror?" might make for a better question, and then they'll move on to asking about how authors scare people. Our tricks and devices. Do we, for example, rely on the known or the unknown to conjure our effects?
Of course, anything outside my direct personal experience could be written off as "unknown," but Lovecraft truly did have unearthly, cosmic horrors in mind. Such things were unknowable in that his various asymmetrical, tentacled, and shape-shifting invaders emerged quite literally from beyond the ken of daily reality. The usual litany of serial killers, war, famine, disease, and basic vanilla grim reaper death held hardly any interest for him at all.
Here's H.P. himself, again from "Supernatural Horror In Literature":
Children will always be afraid of the dark, and men with minds sensitive to hereditary impulse will always tremble at the thought of the hidden and fathomless worlds of strange life which may pulsate in the gulfs beyond the stars, or press hideously upon our own globe in unholy dimensions which only the dead and the moonstruck can glimpse.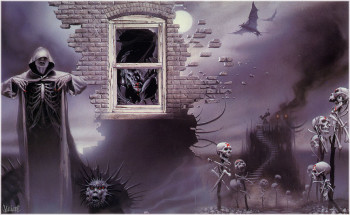 But I submit that at least the majority of what we fear stems from, if not direct experience, "received knowledge" of those earthbound horrors that could, on a wild chance, on a bad day, pluck us up and snuff us out.
Exhibit A: serial killers. How many of us have ever met one? Not many, I'm sure. Not many, I hope! And yet this stock character litters the bestseller lists, and movies, and of course television. We are a society obsessed. Each serial killer may be different in individual habit, but their tropes–their gory effects–are forever the same, and so we have a pretty fair idea of what might befall us were we to fall into their clutches. I submit that it's this "knowability," the dread chance that one might encounter the exact fate already described in a favorite book or show, that drives most people's basic sense of fear.
So here I stand, posturing gamely, and oh-so-certain that Lovecraft is wrong, wrong, wrong.
On the other hand, if I step back and examine my own work, beginning with Check-Out Time (Samhain, 2014) or its upcoming sequel, Bonesy (due later this year), I'm not so sure that I practice what I preach––or that I believe it. Check-Out Time relies for its effects quite explicitly on conjuring an old hotel (plus its many former guests) that refuses to accept its own demolition. In attempting to return to the corporeal world, the building and its denizens do not adhere to the normal laws of nature, and neither does the sewage creature Coil, a semi-sentient flow of swamp water that winds up pursuing one of my two semi-super supernatural sleuths.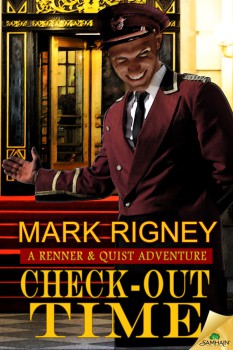 Here's what Lovecraft might have to say about this:
A certain atmosphere of breathless and unexplainable dread of outer, unknown forces must be present; and there must be a hint, expressed with a seriousness and portentousness becoming its subject, of that most terrible conception of the human brain — a malign and particular suspension or defeat of those fixed laws of Nature which are our only safeguard against the assaults of chaos and… unplumbed space.
So once again, my fictions, for Lovecraft, remain essentially mundane. The final resting place of my particular supernatural work is not set in the "outer" depths of "unplumbed space."
Guilty as charged, I suppose, although once again, I find myself rebelling against Lovecraft's limiting dictums about what constitutes ultimate terror. I don't dispute that his criteria were true for himself, but for the rest of us? His brand of horror fiction, while widely admired and frequently imitated, is a drop in the bucket–no, in the ocean–of fictions and films that deal in scares and fright of various other types. Does this not in itself suggest he had it wrong?
And thus we arrive at the straw poll portion of the program. What do you find frightening? Do you feel that Lovecraft's argument is compelling? Or is it the everyday, the normal, or at least the left turn where normality shifts into something more vengefully dangerous, that causes the hairs on your arm to rise?
Weigh in, please!
And if you're in central Ohio on April 25th, stop by and introduce yourself.
Onward.
---
Mark Rigney has published three stories in the Black Gate Online Fiction library: "The Trade," "The Find," and "The Keystone." Tangent called the tales "Reminiscent of the old sword & sorcery classics… once I started reading, I couldn't stop. I highly recommend the complete trilogy." In other work, Rigney is the author of "The Skates," and its haunted sequels, "Sleeping Bear," and Check-Out Time. A new novel, Bonesy, will be released Sept. 1, 2015. His website is markrigney.net.