Apex Magazine #70 Now on Sale
Apex Magazine #70 Now on Sale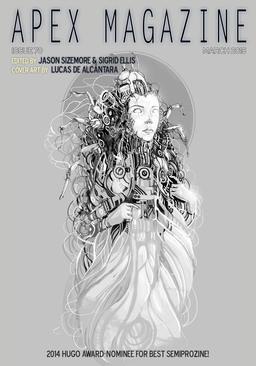 We've covered Apex Magazine in the past, but not with any real thoroughness. But as I promised in my recent article on Expanding Our Magazine Coverage, I hope to be a bit more diligent reporting on the top fantasy magazines from now on.
Apex Magazine is a monthly science fiction, fantasy, and horror publication featuring original short stories, poetry and non-fiction. It is edited by Jason Sizemore and released the first Tuesday of every month. It has been publishing since 2005, and for a while was known as Apex Digest. In 2008 it shifted to an online format, publishing content for free on its website. Previous editors include Catherynne M. Valente (issues 15-29) and Lynne M. Thomas (30 – 55). In 2012, it was nominated for a Hugo Award for Best Semiprozine.
This issue features fiction from Nina Kiriki Hoffman and Thoraiya Dyer, poetry from Jennifer Ironside and Beth Cato, interviews with Damien Angelica Walters and cover artist Lucas de Alcântara, short fiction reviews, a podcast ("Houdini's Heart" by Thoraiya Dyer), and much more.
Fiction
"Houdini's Heart" by Thoraiya Dyer
"Charaid Dreams" by Rati Mehrotra
"A Beautiful Memory" by Shannon Peavey
"Where I'm Bound" by Nina Kiriki Hoffman
"Sing Me Your Scars" by Damien Angelica Walters
"Seed" by Shanna Germain (eBook/subscriber exclusive)
Poetry
"barefoot sprites beware" by Steven Wittenberg Gordon
"Hook" by Jennifer Ironside
"The Changeling Answer" by Jarod K. Anderson
"Mama Gonna Fight" by Beth Cato
Nonfiction
"Words from the Editor-in-Chief" by Jason Sizemore
"A Whole New World" by Mark Allan Gunnells
"Apex Author Interview with Damien Angelica Walters" by Andrea Johnson
"Apex Cover Artist Interview with Lucas de Alcântara" by Russell Dickerson
"Clavis Aurea: A Review of Short Fiction" by Charlotte Ashley
Podcast Fiction
"Houdini's Heart" by Thoraiya Dyer
We previously covered Apex Magazine with issue 51.
Apex Magazine is published by Apex Publications. Issues are available free online, and sold for $2.99 in a variety of digital formats. Subscriptions are just $19.95 for one year (12 issues) in EPUB, Mobi, and PDF formats. This issue's cover is by Lucas de Alcântara. The complete issue is here, and you can buy back issues or subscribe at their website.
See all of our recent magazine coverage here.