Vintage Treasures: Science Fiction: The Great Years edited by Carol & Frederik Pohl
Vintage Treasures: Science Fiction: The Great Years edited by Carol & Frederik Pohl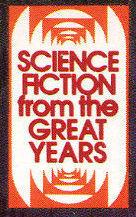 One of my favorite pulp reprint anthologies is Science Fiction: The Great Years, edited by Carol & Frederik Pohl and released by Ace Books in 1973 (cover artist unknown), and by Sphere in the UK in 1977 (cover by Peter Jones).
Part of the reason I like it is because it's part of a series I remember very fondly. The second volume, Science Fiction: The Great Years, Volume II, was released in 1976. It was also part of an Ace imprint, Science Fiction From the Great Years, a line of 17 pulp classics edited and selected by Fred Pohl and published in paperback between 1972 and 1976. All bore the colophon at left. I first discovered pulps in the mid-70s, in Jacques Sadoul's marvelous art book 2000 A.D: Illustrations From the Golden Age of Science Fiction Pulps, and finding these paperbacks on the shelves proudly proclaiming their pulp roots at around the same time was an exciting discovery.
Science Fiction From the Great Years showcased the writers you'd expect. The first volume was Philip Francis Nowlan's original Buck Rogers novel, Armageddon 2419 A.D. Later writers included John W. Campbell, Edward E. 'Doc' Smith, Eric Frank Russell, Murray Leinster, Ray Cummings, C.L. Moore and Fletcher Pratt, Ralph Milne Farley, and many more. It was a great line up of books, and one of the last times American publishing used pulp credentials as a marketing ploy (at least until the film Pulp Fiction made pulp interesting again in the 90s.)
As for the anthology, it included some great fiction from a fine line-up of writers, including long novellas by Eric Frank Russell and Galaxy editor H. L. Gold, as well as William Tenn, Raymond Z. Gallun, Fredric Brown, Frederik Pohl, and C. M. Kornbluth. There's also two separate intros, one from each editor.
Here's a few of the magazines these stories originally appeared in, arranged from earliest to latest.
Click any of the images for bigger versions.
And here's the complete table of contents.
Introduction the First by Frederik Pohl
Introduction the Second by Carol Pohl
"… And Then There Were None" by Eric Frank Russell (Astounding Science Fiction, June 1951)
"The Liberation of Earth" by William Tenn (Future Science Fiction, May 1953)
"Old Faithful" by Raymond Z. Gallun (Astounding Stories, December 1934)
"Placet Is a Crazy Place" by Fredric Brown (Astounding Science Fiction, May 1946)
"Wings of the Lightning Land" by Frederik Pohl (Astonishing Stories, November 1941)
"The Little Black Bag" by C. M. Kornbluth (Astounding Science Fiction, July 1950)
"A Matter of Form" by H. L. Gold (Astounding Science-Fiction, December 1938)
A follow-up volume, Science Fiction: The Great Years Volume II, was published in 1976; we covered it here.
Science Fiction: The Great Years was published by Ace Books in January 1973. It is 349 pages, originally priced at $1.25 in paperback. The cover artist is unknown. It has never been reprinted, and there is no digital edition.
See all of our recent Vintage Treasures here.