Future Treasures: The Border by Robert McCammon
Future Treasures: The Border by Robert McCammon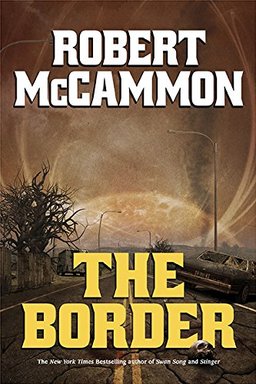 By 1991 Robert McCammon had no less than three New York Times bestsellers: The Wolf's Hour, Stinger, and the post-apocalyptic horror novel Swan Song. He's won the Bram Stoker Award for Best Novel twice (for Mine and Boy's Life), and the World Fantasy Award (for Boy's Life).
McCammon has a flair for epic, large-scale horror, as demonstrated by the alien invasion novel Stinger and the massive 864-page Swan Song. He returns to the genre with his upcoming novel The Border, the tale of an Earth torn apart by a vicious conflict between two marauding alien civilizations.
It is not just the living ships of the monstrous Gorgons or the motion-blurred shock troops of the armored Cyphers that endanger the holdouts in the human bastion of Panther Ridge. The world itself has turned against the handful of survivors, as one by one they succumb to despair and suicide or, even worse, are transformed by otherworldly pollution into hideous Gray Men, cannibalistic mutants driven by insatiable hunger. Into these desperate circumstances comes an amnesiac teenaged boy who names himself Ethan — a boy who must overcome mistrust and suspicion to master unknowable powers that may prove to be the last hope for humanity's salvation. Those same powers make Ethan a threat to the warring aliens, long used to fearing only each other, and thrust him and his comrades into ever more perilous circumstances.

A major new novel from the unparalleled imagination of Robert McCammon, this dark epic of survival will both thrill readers and make them fall in love with his work all over again.
We last covered Robert McCammon with Bob Byrne's review of Boy's Life.
The Border will be published by Subterranean Press on May 31, 2015. It is 456 pages, priced at $26.95 in hardcover. No news on a digital edition yet.