New Treasures: Jazz Age Cthulhu by Jennifer Brozek, A.D. Cahill, and Orrin Grey
New Treasures: Jazz Age Cthulhu by Jennifer Brozek, A.D. Cahill, and Orrin Grey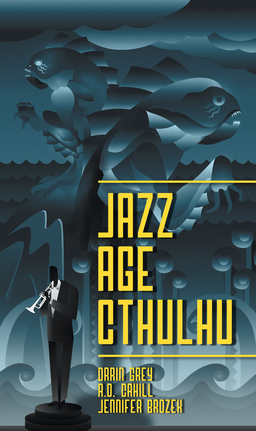 I like these Innsmouth Free Press folks. They've done some impressive work recently, including Nick Mamatas' collection The Nickronomicon, Love & Other Poisons by Silvia Moreno-Garcia, and the anthology Future Lovecraft — not to mention the ongoing Innsmouth Magazine, edited by Silvia Moreno-Garcia and Paula R. Stiles, which has produced fifteen issues so far.
Jazz Age Cthulhu is a handsome paperback containing three brand new novelettes inspired by Lovecraft's Cthulhu Mythos, set against the background of the Roaring Twenties, by Jennifer Brozek, A.D. Cahill, and Orrin Grey.
Journey to Kansas City, the "Paris of the Plains," a city of glamor and sin where cults, secret societies and music intermingle. Visit Assam, India, where a British dilettante wakes up one morning covered in bruises and welts, with a dead man in her bed and no memory of what happened in the last 24 hours. Her only clue is a trashed invitation to the exclusive Black Ram Club. Relax on the resort island of Pomptinia, an Italian enclave of wealthy socialites, expats and intellectuals. But beware — the sea conceals dark secrets.
We last covered Innsmouth Free Press with their anthology Sword & Mythos, edited by Silvia Moreno-Garcia and Paula R. Stiles. We covered Jennifer Brozek's collection Apocalypse Girl Dreaming back in October, and her heroic fantasy anthology Shattered Shields, co-edited with Bryan Thomas Schmidt, in September.
Jazz Age Cthulhu was published by Innsmouth Free Press on December 15, 2014. It is 146 pages, priced at $10 for the trade paperback and just $3.99 for the digital edition.
See all of our recent New Treasures posts here.