Interzone #256 Now on Sale
Interzone #256 Now on Sale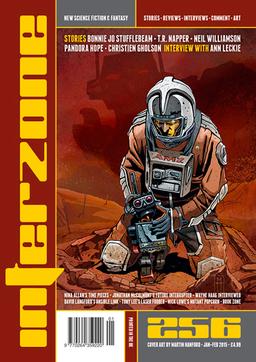 Black Static 44 is now on sale here in the US, and I thought it was long past time to take a look at its sister magazine Interzone, also published by TTA Press in the UK.
Interzone was founded in 1982 by a UK collective of fans that included author and critic John Clute, Take Back Plenty author Colin Greenland, Malcolm Edwards, who became the SF editor at Victor Gollancz and creator of the highly respected SF Masterworks line, and David Pringle. David Pringle eventually became the sole editor, remaining at the helm for an incredible 193 issues, until he stepped down in 2004. Since then it's been owned by TTA Press, publishers of Black Static and Crimewave, with Andy Cox as editor.
Interzone contains chiefly science fiction but, like Asimov's SF here in the states, does publish the occasional fantasy piece. Issue #256 is cover-dated January/February, and contains the following stories:
"Nostalgia" by Bonnie Jo Stufflebeam
"An Advanced Guide to Successful Price-Fixing in Extraterrestrial Betting Markets" by T.R. Napper
"The Ferry Man" by Pandora Hope
"Tribute" by Christen Gholson
"Fish on Friday" by Neil Williamson
The cover this issue (titled Berenice) is by artist Martin Hanford, who has been commissioned to do all the 2015 covers. Click the cover for a bigger version. If the style looks familiar, you probably saw Hanford's art just yesterday in our New Treasures piece on Swords of Steel.
This issue also includes an interview with Ann Leckie, the Hugo-award winning author of Ancillary Sword, as well as articles by Tony Lee, Jonathan McCalmont, and Nina Allan. There's also David Langford's long-running Ansible Link column, and an interview with Wayne Haag about his work as a concept artist and matte painter for TV and film.
The magazine's regular review columns include book reviews from nearly a dozen contributors, Nick Lowe's Mutant Popcorn (movie reviews), and Laser Fodder by Tony Lee (DVD/Blu-ray reviews). Issue 256 is nearly 100 pages and comes packed with ficiton, columns, and top-notch art.
As usual, the interior art adds enormously to the professional look of the magazine. Here's the opening spread for Bonnie Jo Stufflebeam's "Nostalgia" (art by Richard Wagner).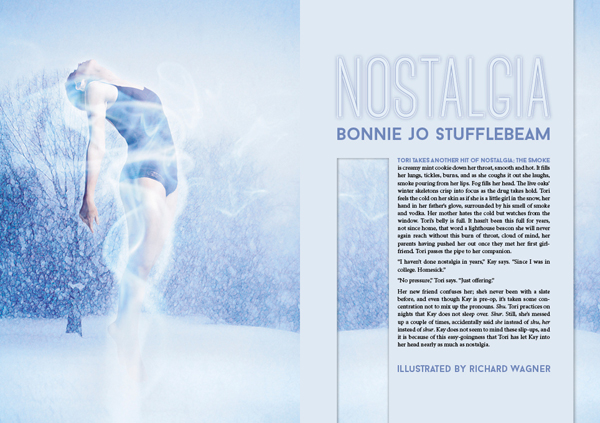 And "The Ferry Man" by Pandora Hope (illustrated by Ben Baldwin).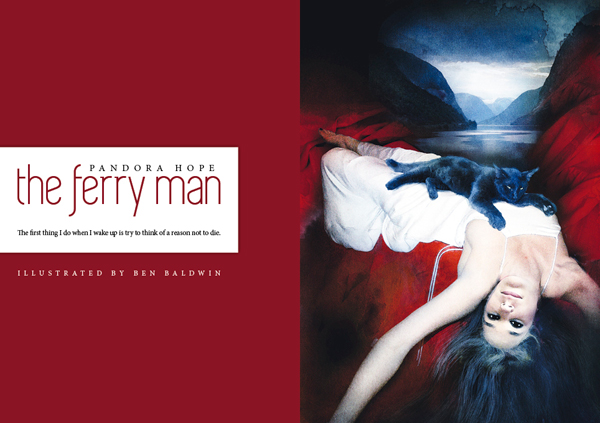 And "Tribute" by Christen Gholson (illustration by Richard Wagner).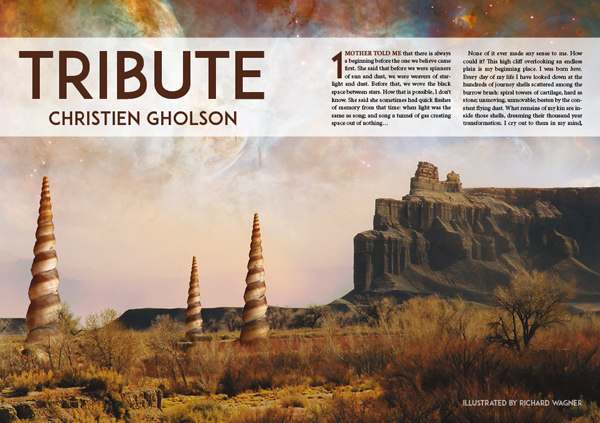 Even the interviews look great.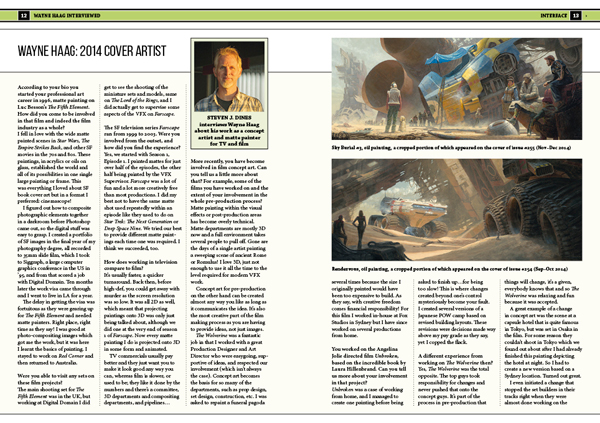 As do the colorful and easy-to-read reviews. Here's Tony Lee's Laser Fodder column.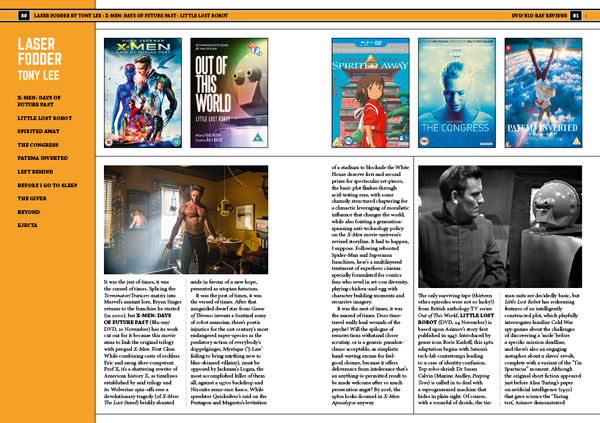 As we've mentioned before, magazines like Interzone are completely dependent on fans and readers to keep them alive. I hope this one survives for a good long time — but it won't without reader support. If it sounds intriguing, I hope you'll consider buying an issue next time you find yourself browsing the magazine rack.
See more details and excerpts from issue 256 at the TTA website.
Interzone is edited by Andy Cox, and published by TTA Press. Issue #256 is cover-dated January-February 2015. It is 96 pages, priced at £4.99. The cover is by Martin Hanford. Copies are usually around $9.99 here in the US. A six-issue subscription is £27 (UK) and £33 in the US. Order right from the TTA Press website.
See all of our recent coverage of magazines here. We last covered Interzone with a look back at Two Decades of Interzone.