Start Off the New Year With Strange Tales
Start Off the New Year With Strange Tales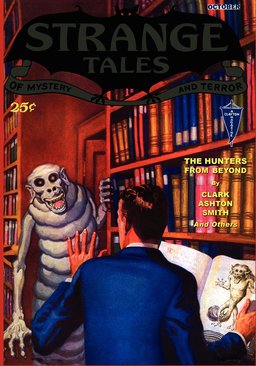 Santa was good to me this year. Lots of great paperbacks, some Warhammer 40K audio dramas, two graphic novels… and a copy of Strange Tales #6, cover dated October 1932 (the Wildside reprint edition, of course.)
Nothing like getting a famous pulp magazine for Christmas. This one contains a novella by Victor Rousseau and short stories by Clark Ashton Smith, Frank Belknap Long, Hugh B. Cave, Sewell Peaslee Wright, and Henry S. Whitehead, among others. I even know who Henry S. Whitehead is, thanks to my recent post on the Wordsworth edition of Voodoo Tales: The Ghost Stories of Henry S. Whitehead (and yes, I felt smug when I spotted him on the TOC). There's even an essay on True Tales of the Weird by Robert W. Sneddon. The reprint includes all of the interior artwork by Amos Sewell and Rafael Desoto. Here's the complete table of contents:
"The Hunters from Beyond" by Clark Ashton Smith
"The Curse of Amen-Ra" by Victor Rousseau
"Sea-Tiger" by Henry S. Whitehead
"The Dead Walk Softly" by Sewell Peaslee Wright
"Bal Macabre" by Gustav Meyrink
"Strange Tales and True," essay by Robert W. Sneddon
"The Infernal Shadow" by Hugh B. Cave
"The Artist of Tao" by Arthur Styron
"In the Lair of the Space Monsters" by Frank Belknap Long
The Cauldron (Letters)
We covered several of Wildside's pulp reprints in December. Strange Tales #6 is about 148 pages, priced at $14.95. Wildside's has replicas of issues 4, 6, and 7 for sale as pulp reprints here.