The Dark Issue 6 Now on Sale
The Dark Issue 6 Now on Sale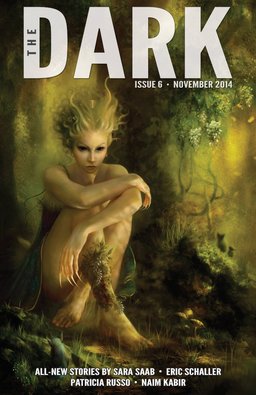 The sixth issue of The Dark, cover-dated November 2014, is now on sale.
Truthfully, I haven't paid much attention to The Dark magazine recently. But at the World Fantasy Convention I picked up a free sampler, containing an assortment of fiction from past issues, and crammed it into my travel bag. Of all the things I could have read on my flight back to Chicago (and believe me, that bag was so stuffed it barely fit under the seat in front of me), it was that sampler that seemed most intriguing, so once we were off the ground I pulled it out, reclined my chair, and started to read.
It only took a few minutes to convince me that overlooking The Dark has been a serious mistake. A quarterly magazine of horror and dark fantasy co-edited by Jack Fisher and Sean Wallace, The Dark has published short fiction by some of the brightest stars in the fantasy firmament, including World Fantasy Award winner Nnedi Okorafor, Angela Slatter, Rachel Swirsky, E. Catherine Tobler, Stephen Graham Jones, and many others.
Issues are available in digital format for just $2.99. Each one contains four short stories (roughly 40 pages), and is available through Amazon, B&N.com, Apple, Kobo, and other fine outlets. They can also be read for free on the website. The sixth issue contains the following:
Calamity, the Silent Trick by Sara Saab
The Three Familiars by Eric Schaller
Mourning Flags and Wildflowers by Patricia Russo
Home at Gloom's End by Naim Kabir
If you enjoy the magazine as I do, there are plenty of ways you can help support it, including by buying their books, reviewing stories, or even just leaving comments. See the Issue 6 story summaries here, and their complete back issue catalog here. We last covered The Dark with Issue #1.