New Treasures: Elisha Barber by E.C. Ambrose
New Treasures: Elisha Barber by E.C. Ambrose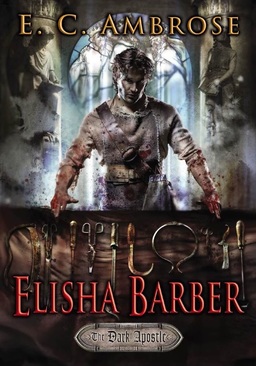 I missed E.C. Ambrose's Elisha Barber when it was released over the summer. But I met the author, and found a copy in my freebee bag, at the World Fantasy Convention, and it seemed like I was missing out on a promising new voice in fantasy. I started reading it today; so far it's a fast moving and well written dark fantasy of an alternative fourteenth century of brutal war, necromancy… and stranger things.
England in the fourteenth century: a land of poverty and opulence, prayer and plague… witchcraft and necromancy.

As a child, Elisha witnessed the burning of a witch outside of London, and saw her transformed into an angel at the moment of her death, though all around him denied this vision. He swore that the next time he might have the chance to bind an angel's wounds, he would be ready. And so he became a barber surgeon, at the lowest ranks of the medical profession, following the only healer's path available to a peasant's son.

Elisha Barber is good at his work, but skill alone cannot protect him. In a single catastrophic day, Elisha's attempt to deliver his brother's child leaves his family ruined, and Elisha himself accused of murder. Then a haughty physician offers him a way out: come serve as a battle surgeon in an unjust war. Between tending to the wounded soldiers and protecting them from the physicians' experiments, Elisha works night and day. Even so, he soon discovers that he has an affinity for magic, drawn into the world of sorcery by Brigit, a beautiful young witch… who reminds him uncannily of the angel he saw burn.

In the crucible of combat, utterly at the mercy of his capricious superiors, Elisha must attempt to unravel conspiracies both magical and mundane, as well as come to terms with his own disturbing new abilities. But the only things more dangerous than the questions he's asking are the answers he may reveal.
Elisha Barber is the first novel in The Dark Apostle series; the second volume, Elisha Magus, was released on July 1, 2014. Elisha Barber was published on June 3, 2014 by DAW Books. It is 386 pages, priced at $24.95 in hardcover, $7.99 in paperback, and $6.99 for the digital edition. The cover is by Cliff Nielsen. Download the first three chapters at E.C. Ambrose's website