Vintage Treasures: The Book of Paradox by Louise Cooper
Vintage Treasures: The Book of Paradox by Louise Cooper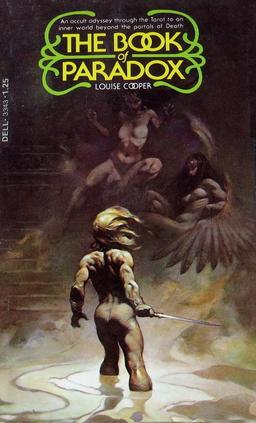 Well, this is a surprise.
A few weeks back, I purchased a collection of vintage paperbacks on eBay for around 50 cents each (the same collection I found Orbit 3 in, which I wrote about on Wednesday.) You never know what you're going to find in these things, and buried near the bottom of the box was a 1973 sword & sorcery paperback titled The Book of Paradox, with a typically alluring Frazetta cover. I was setting it aside when I caught the author's name, in tiny print under the title: Louise Cooper.
Wait a minute. Louise Cooper, author of the 12-volume Time Master novels, and the Indigo series? I had no idea she wrote sword & sorcery.
Turns out The Book of Paradox was her first novel. Originally published in hardcover in 1973, when she was just 20 years old, it launched her career. She became a full-time writer in 1977, and in her 30-year career published more than eighty fantasy novels. Looks to me like Dell just had no idea how to categorize her in 1973, so they just threw her in with their S&S line. The book has a fairly typical cover blurb: "An occult odyssey through the Tarot to an inner world beyond the portals of death." Here's the back cover text:
A hypnotically fascinating Tarot adventure to a psychedelic nether realm of mysterious fantasy where lies are truths and truths have no meaning… where terror is real and reality is always questionable…and where a valiant hero must become The Fool to succeed on a perilous quest for love through changing worlds of eternal night.

Myth, mystery and magic abound in a mesmerizing novel of considerable imaginative talent.
Louise Cooper died of a brain hemorrhage at the age of 57 in 2009, leaving behind a rich legacy of much-loved fantasy. The Book of Paradox was published in paperback in February 1975 by Dell. It is 236 pages, with a cover price of $1.25. The cover is by Frank Frazetta. It has never been reprinted, and there is no digital edition.