Future Treasures: A Play of Shadows by Julie E. Czerneda
Future Treasures: A Play of Shadows by Julie E. Czerneda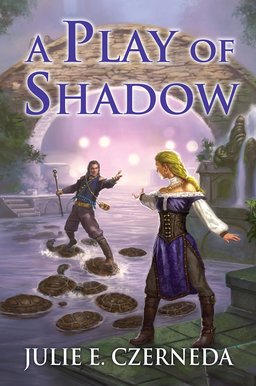 Canadian writer Julie E. Czerneda has published over a dozen acclaimed science fiction novels and has rapidly built an enviable fan base.
She first dipped her toe into fantasy with Scott Taylor's groundbreaking anthology Tales of the Emerald Serpent (announced right here back in March 2012), and its sequel, A Knight in the Silk Purse. She took the plunge with her first full-length fantasy novel, A Turn of Light, earlier this year.
The upcoming sequel, A Play of Shadows, returns to the pastoral valley of Marrowdell, home to a pioneer settlement of refugees, enigmatic house toads, and Jenn Nalynn, the turn-born who has always dreamed of exploring beyond the valley's borders… and who finds that increasingly impossible.
What would you risk for family?

In the second installment of Night's Edge, Bannan Larmensu, the truthseer who won Jenn Nalynn's heart, learns his brother-in-law was sent as a peace envoy to Channen, capitol of the mysterious domain of Mellynne, and has disappeared. When Bannan's young nephews arrive in Marrowdell, he fears the worst, that his sister, the fiery Lila, has gone in search of her husband, leaving her sons in his care.

The law forbids Bannan from leaving Marrowdell and travelling to Mellynne to help his sister. In this world. As a turn-born, Jenn Nalynn has the power to cross into the magical realm of the Verge, and take Bannan with her. Once there, they could find a way into Mellynne.
If they survive. The Verge is wild and deadly, alive with strange magic. Dragons roar and kruar wait in ambush, and the powerful turn-born who care for their world do not care for Jenn Nalynn.

She's willing to try. Wisp and Scourge — and the house toads — offer their help.

But what none of them know is that magic is rife in Channen, magic that flows from the Verge itself. And not even a turn-born will be safe there.
A Play of Shadows will be published by DAW Books on November 4, 2014. It is 592 pages, priced at $20 in trade paperback and $9.99 for the digital edition. The cover art is by Matt Stawicki.