Future Treasures: Clariel, The Lost Abhorsen, by Garth Nix
Future Treasures: Clariel, The Lost Abhorsen, by Garth Nix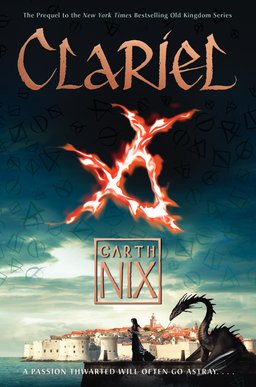 Garth Nix is one of my favorite young adult writers. I was tremendously impressed with his dark, gritty, and fast-paced Shade's Children — talk about your dystopian settings! — and I've heard great things about his Seventh Tower series.
But it was his Abhorsen series — Sabriel (1997), Lirael (2002), and Abhorsen (2004) — that really made a splash in this house. My kids absolutely loved them, especially my oldest, Tim. So when the advance proof of Clariel: The Lost Abhorsen arrived last month, it was barely on my desk 24 hours before my kids ran off with it. It's taken me this long to get it back so I can write about it.
Clariel is a prequel to the earlier volumes, returning to the Old Kingdom for a tale of dark magic, royalty, dangerous action, a strong heroine, and Nix's usual superb world-building.
Clariel is the daughter of one of the most notable families in the Old Kingdom, with blood relations to the Abhorsen and, most important, to the King. She dreams of living a simple life but discovers this is hard to achieve when a dangerous Free Magic creature is loose in the city, her parents want to marry her off to a killer, and there is a plot brewing against the old and withdrawn King Orrikan. When Clariel is drawn into the efforts to find and capture the creature, she finds hidden sorcery within herself, yet it is magic that carries great dangers. Can she rise above the temptation of power, escape the unwanted marriage, and save the King?
Clariel will be published by HarperCollins on October 14, 2014. It is 400 pages, priced at $18.99 in hardcover and $10.99 for the digital edition.
See all of our upcoming book reports here.