Goth Chick News: The Zombie Apocalypse Spreads to a $100K Kickstarter Campaign
Goth Chick News: The Zombie Apocalypse Spreads to a $100K Kickstarter Campaign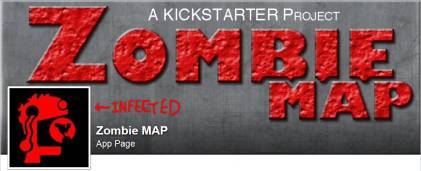 Here in the underground offices of Goth Chick News, the only thing we appreciate more than a blended, adult beverage is an independent film; more specifically, an independent horror film.
So guys like Wyatt Weed from Pirate Pictures and Roze (who like all icons goes by one name only) are serious heroes around here.  And though the whole Pirate Pictures crew have been Black Gate regulars for some time, Roze wasn't slated to make an appearance until early next year.
If you aren't familiar with his work, Roze is an Arizona-based writer/director with a passion for the macabre. Roze and his wife Candace co-founded the independent production company Gas Mask Films, which made its debut in 2006 with Denial, a short film screened at the Cannes Film Market Short Film Corner. In 2008, the feature-length film Deadfall Trail was shot and produced entirely in Arizona for less than $80,000. After the success of Deadfall Trail, Gas Mask Films went on to produce the feature horror film, Speak No Evil, slated for wide release by Lions Gate in 2015.
And 2015 is when we expected to tell you about Roze — that is until he floated over an idea that was just too perfect not to pass along.
You see, Roze has this plan that he explained would probably be, "the biggest thing to happen to Zombies since sliced heads."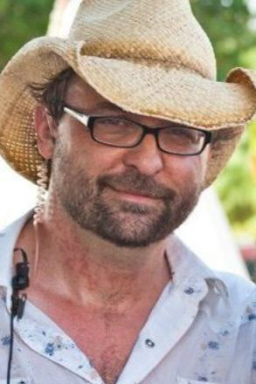 Okay Roze, we're all ears here…
Zombie culture is at an all-time high, as the living dead creep their way out of the realm of film and television, and into major cities through Zombie walks happening around the globe. I want to mobilize Zombie enthusiasts and filmmakers of varying levels to document the Zombie Apocalypse with "Zombie Map" an interactive app that allows users to upload their own independent geo-tagged video shorts and add to the story of a worldwide Zombie outbreak.
Roze has launched a Zombie Map $100,000 Kickstarter campaign to fund the creation of the app and website, and over 450 people have united to provide 30 Zombie film shorts to support the campaign. The Kickstarter campaign began on August 11 and ends on September 10. Roze goes on to explain (very excitedly I might add):
For the first time in Kickstarter history, a 30-day online campaign to raise funds will utilize the features of the Kickstarter platform to share 30 different Zombie short films, with one released each day. We view the mobile app as an empowering tool for independent filmmakers by putting the story directly into the hands of genre fans, creating both a place to share content and build a community.
The Zombie Map mobile device application and website feature a video player and a world map. The first video informs the user that the Zombie apocalypse is upon us, and asks people from across the world to document the spread of the infection by shooting and uploading films directly to the map – each film will put another marker on the map.
Users will be able to select any marker on the map to watch that short Zombie film, Zombie attack or sighting, take a picture of yourself as a Zombie (a "#zelfie" – could you literally just d-i-e), view news footage of the Zombie apocalypse from across the globe, blog about how you're holding up, and get tips on Zombie survival.  Considering this is all in the hands of the user group, it has most definitely gotten interesting.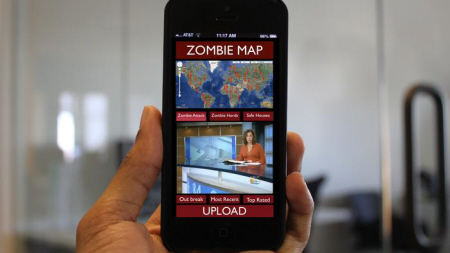 With Zombie Map, anyone can write a storyline, shoot a short film, and upload content to the site, so the question of 'what will happen next' is very real and adds to the unique end-user experience," says Roze, "while at the same time, it's an exciting and creative outlet for distributing Zombie content for fans."
I can already tell this is going to put an entirely new spin on the Black Gate company picnic, which ultimately turns into a Zombie Apocalypse every year anyway.
All we have to do this year is film it…
Click HERE to check out Roze's Zombie Map Kickstarter page, and visit the 'Updates' tab daily to see new Zombie videos uploaded during the campaign, or head over to the Zombie Map Facebook page for more.  Then watch for Lionsgate to distribute Speak No Evil sometime in 2015.
And Roze, for the record, can I say that poster art is just… well… gnarly.
Have a question or comment?  Post it here or drop a line to sue@blackgate.com.