Lou Anders: Why I Write What I Write How I Write it
Lou Anders: Why I Write What I Write How I Write it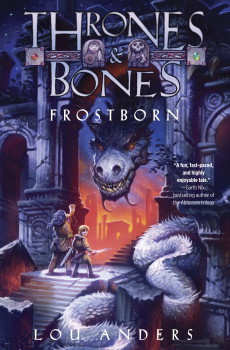 If you haven't heard yet, award-winning editor and art director Lou Anders's new book has hit the shelves, and it's causing quite a stir. It's already chalked up a starred review from Publisher's Weekly and critical acclimation from a whole host of additional outlets. I thought it high time to sit down with Lou so he could tell Black Gate readers what his book was all about! Take it away, Lou.
I've always loved fantasy stories. As a child, I read The Hobbit over and over. One of my most prized possessions is a large, coffee table edition of Tolkien's original version, featuring concept art and production stills from the 1977 Rankin/Bass animated musical television special. It was given to me by my uncle's family, and I still have it today, dust jacket and everything! I studied the lavish illustrations for hours on end and taught myself to draw the Goblin King. It was the first in a large collection of Middle Earth-related volumes.
When I wasn't reading, I painted miniature figures. I had a huge, faux-grass covered table in my bedroom where I'd assembled an entire army of Riders of Rohan versus orcs and half orcs. My friends and I played Dungeons & Dragons on weekends (guess who was the game master?) and my best friend and I watched Star Wars over a hundred times easy. I read everything I could get my hands on by Edgar Rice Burroughs, Michael Moorcock, Robert E. Howard, and Fritz Leiber. I even built a round wooden shield out of a barrel top (it was heavy!) and used a staple gun to attach strips of thin metal to craft an outfit out of canvas.
These days, I read J.RR. Tolkien and J.K. Rowling to my son, watch Tangled and Frozen with my daughter (she and I read Fancy Nancy, but that's not germane to this discussion). We sword fight with foam weapons and build castles in Minecraft. My appreciation for fantasy hasn't gone away. If anything, it's grown by leaps and bounds.
There's something amazing about walking into a fantasy world, being swept up in the incredible vistas, the staggering landscapes and sense of scope and scale. And, of course, the adventure. We hear fantasy frequently dismissed as escapism, and yet, if it is an escape, it's one from which we seem to return recharged, invigorated, and inspired. Perhaps this is because it is our oldest form of storytelling, and storytelling itself is such an effective way to explore and communicate our most basic truths. There are things we can tell each other in stories that we can't understand any other way. I've always been a storyteller, in one form or another, and I've always loved stories.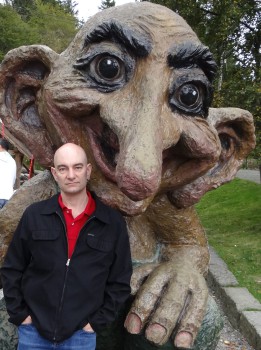 I've written a lot of different works in my life – articles, short stories, plays, screenplays, a nonfiction book — but Frostborn is my first foray into a full-on fantasy world of my own creation. I set out to build a world that would invoke all the sense of wonder I'd experienced myself as a reader, as large in scope and scale as Nehwon, or Greyhawk, or the Young Kingdoms. I built a world where I could set a near-unlimited number of fantasy tales. And then I cast about for my first one.
Wearing another hat, I edit books meant for adults — works I'm proud of, but which aren't appropriate for my children to read at this stage in their lives. I wanted my own work to be something they could dive right into, with characters they could both relate to and care about. Into the world of Frostborn, the first book in the Thrones and Bones series.
Frostborn begins in the ice-bound, Norse-inspired land of Norrøngard, where I placed a boy and a girl character for my own son and daughter. It's very important to me that neither character is the sidekick of the other. Karn and Thianna are very different in personality and in strength, but they are equal in importance to the story of Thrones and Bones. They will grow as the series progresses, and we'll meet new characters as well as we travel to new lands, but here at the start, they are everything I've ever wanted them to be, and I haven't had this much fun since my first visit to Middle Earth.
---
Lou Anders's research on Norse mythology while writing Frostborn turned into a love affair with Viking culture and a first visit to Norway. He hopes the series will appeal to boys and girls equally. Anders is the recipient of a Hugo Award for editing and a Chesley Award for art direction. He has published over 500 articles and stories on science fiction and fantasy television and literature. Frostborn, which Publishers Weekly described as "thoroughly enjoyable" (starred review), is his first middle grade novel. A prolific speaker, Anders regularly attends writing conventions around the country. He and his family reside in Birmingham, Alabama. You can visit Anders online at louanders.com and ThronesandBones.com, on Facebook, and on Twitter at @ThronesandBones.