R.I.P. Robin Williams (1951-2014)
R.I.P. Robin Williams (1951-2014)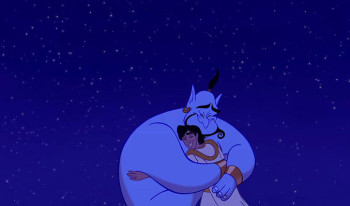 Mork has returned to Ork; the Fisher King has departed; the Genie, after granting us the wish for laughter, is gone.
Robin Williams died Monday, an apparent suicide. The Great Jester of my parents' generation had been battling severe depression in recent months, according to his manager. Those who have followed Williams's decades-spanning career know that this demon was the dark side to his manic comic talent. Ironically, while he so often made us laugh, there was no healing humor left for himself yesterday. The Jester has exited the stage, leaving an echo of laughter as the curtain falls on this tragic final act.
Here is part of what James Lipton, host of Inside the Actor's Studio, had to say in remembrance of Williams Monday evening on The Last Word with Lawrence O'Donnell:
I asked him If heaven exists what would you like to hear God say when you arrive at the Pearly Gates?, and this is what Robin Williams said to me: "'There's seating near the front. The concert begins at five; it will be Mozart, Elvis, and one of your choosing.' Or, to know that in heaven there's laughter. That would be a great thing, just to hear God say, 'Two Jews walk into a bar…'" And look where he went with that. In fifteen different directions at once. You know, I suppose everybody has said it already, and I'm the last to say it: we are dealing with a real-life pagliacci. This is the clown who laughed, who cried. This the clown who cried, at last, in life, and who breaks our hearts. But in the end…in the end, as so many comedians are, Robin was pagliacci.