Vintage Treasures: Martians, Go Home by Fredric Brown
Vintage Treasures: Martians, Go Home by Fredric Brown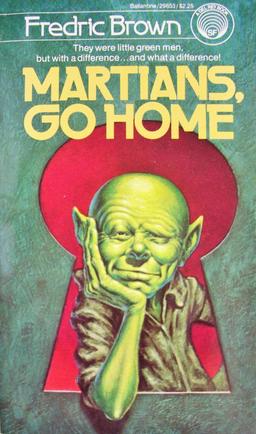 The last time I talked about Fredric Brown, I called The Best of Fredric Brown one of the best short story collections I've read in years. Brown is best remembered today for his short stories — including  "Arena," "Puppet Show," and "The Geezenstacks" — but his novels are also fondly remembered.
Martians, Go Home is probably his most famous. A shorter version originally appeared in the September 1954 issue of Astounding; it was expanded a year later for publication in hardcover by E. P. Dutton. Set in the distant future of 1964, it begins as SF writer Luke Deveraux opens the door of his desert cabin in a drunken stupor to find a little green Martian, a one-creature invasion who proceeds to make Deveraux's life hell. Richard A. Lupoff called it "one of the most charming bits of SF-whimsy ever written." Here's the description from the back of the 1976 Ballantine paperback.
THEY WERE GREEN, THEY WERE LITTLE, THEY WERE BALD AS BILLIARD BALLS AND THEY WERE EVERYWHERE!

Luke Devereaux was a science fiction writer, holed up in a desert shack waiting for inspiration. He was the first to see a Martian… but he wasn't the last!

It was estimated that one billion of them had arrived — one to every three human beings on Earth — obnoxious green creatures who could be seen and heard, but not harmed, and who probed private sex lives as shamelessly as they probed government secrets.

No one knew why they had come. No one knew how to make them go away — except perhaps, Luke Devereaux. Unfortunately he was going slightly bananas, so it wouldn't be easy. But for a science fiction writer nothing was impossible…
The cover painting by Frank Kelly Freas became one of his signature works, used as the cover of Astounding, two paperback editions, a calendar, and Freas's art book (see the various versions here.)
Martians, Go Home was published by Ballantine Books in September 1976. It is 163 pages, originally priced at $1.50. It is currently out of print, but available in digital format from Hachette and audio book from Skyboat Media.