Win a Copy of The Collected Edmond Hamilton, Volume Four from Haffner Press
Win a Copy of The Collected Edmond Hamilton, Volume Four from Haffner Press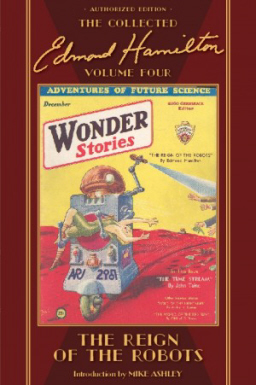 Haffner Press has released the long-awaited fourth volume of The Collected Edmond Hamilton and we have a copy to give away to one lucky winner.
How do you enter? Just send an e-mail to john@blackgate.com with the title "Edmond Hamilton" and a one-sentence review of your favorite Hamilton novel or short story (don't forget to mention the title of the story). One winner will be drawn at random from all qualifying entries and we'll publish the best reviews here on the Black Gate blog. To give you the idea, here's my one-sentence review of my favorite Hamilton story, "The Man Who Evolved." (read the complete story here)
Arthur Wright and Hugh Dutton visit Dr. John Pollard on the night he first tests a ray that allows him to experience millions of years of human evolution… and witness a deadly experiment that threatens the entire human race.
See how easy that was? If you need more inspiration. we recently covered several Edmond Hamilton books — including Starwolf and The Best of Edmond Hamilton — and we reprinted his very first story, "The Monster-God of Mamurth" (from the August 1926 issue of Weird Tales) in Black Gate 2.
All entries become the property of New Epoch Press. No purchase necessary. Must be 12 or older. Decisions of the judges (capricious as they may be) are final. Not valid where prohibited by law. Or anywhere postage for a hefty hardcover is more than, like, 10 bucks. Seriously, this thing is huge and postage is killing me.
The Reign of the Robots, The Collected Edmond Hamilton, Volume Four was published by Haffner Press on December 30, 2013. It is 696 pages, priced at $40 in hardcover. There is no digital edition. Learn more at the Haffner website.