New Treasures: Dream London by Tony Ballantyne
New Treasures: Dream London by Tony Ballantyne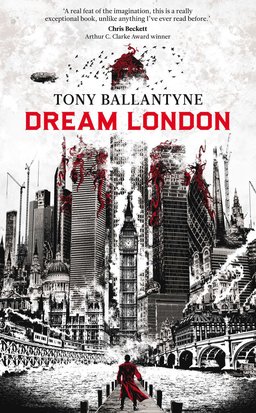 I've never read anything by this Tony Ballantyne fellow and I'm probably overdue. He's a British science fiction writer who's had an impressive career for a decade now, starting with the Recursion trilogy, Recursion (2004), Capacity (2005), and Divergence (2007), all published in the US by Bantam Spectra. He's also written two volumes of The Robot Wars, Twisted Metal (2009) and Blood and Iron (2010), and I really don't know how I missed that one — if it's got battling robots, I'm usually all over it.
But it's his first fantasy novel that has really piqued my curiosity and it's getting some serious attention from both sides of the Atlantic. Set in a constantly shifting London that's gradually getting weirder every night, and apparently throwing off the laws of physics, it's — as Chris Beckett put it in his excellent Tor.com review —  "a place you feel you might have visited yourself, if only you'd been able to hold it in your mind when you woke up."
In Dream London the city changes a little every night and the people change a little every day. Captain Jim Wedderburn has looks, style and courage by the bucketful. He's adored by women, respected by men and feared by his enemies. He's the man to find out who has twisted London into this strange new world, and he knows it. But the towers are growing taller, the parks have hidden themselves away and the streets form themselves into strange new patterns. There are people sailing in from new lands down the river, new criminals emerging in the East End and a path spiralling down to another world. Everyone is changing, no one is who they seem to be, and Captain Jim Wedderburn is beginning to understand that he's not the man he thought he was…
Dream London was published by Solaris Books on October 29, 2013. It is 404 pages, priced at $7.99 in paperback and $6.99 for the digital edition.
See all of our recent New Treasures here.