Lucius Shepard, August 21, 1947 – March 18, 2014
Lucius Shepard, August 21, 1947 – March 18, 2014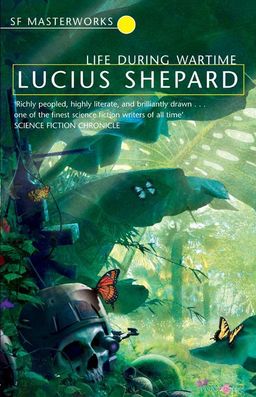 Multiple sources are reporting that Lucius Shepard, one of the most talented writers to emerge from the cyberpunk movement in the mid-80s, has died.
I first encountered him in the pages of Omni magazine in 1988, with his novelette "Life of Buddha." I remember being astounded with the natural realism of his dialog, which captured the flow of modern speech in a way I'd never seen before. I read his brilliant Nebula Award-winning novella "R&R" — which opens with an artillery specialist in Central America getting a glimpse of a war map and wondering if he's somehow caught up in a war between primary colors — and the novel it turned into, Life During Wartime (1987). His dark visions of the near future frequently involved inexplicable wars, and he wrote extensively about Central America, where he lived briefly.
Shepard won the John W. Campbell Award for best new writer in 1985. His 1992 novella "Barnacle Bill the Spacer," which I read in the pages of Isaac Asimov's Science Fiction Magazine, was a vivid character study of a mentally disabled cleaning man on a troubled space station, and his unexpected actions during an attempted mutiny. It won the Hugo Award in 1993 and was eventually collected in Barnacle Bill the Spacer and Other Stories (1998) and Beast of the Heartland (1999.)
He won many other awards during his lifetime. Two of his early collections, The Jaguar Hunter (1987) and The Ends of the Earth (1991), won the World Fantasy Award; his novella "Vacancy," from the Winter 2007 issue of Subterranean Online, won a Shirley Jackson Award (read the story here).
Shepard published his first short stories in 1983; his first novel was Green Eyes in 1984. For the first few years of his career, he was considered part of the cyberpunk movement, but quickly broke free of that market label with his horror novel The Golden (1993) and titles like Valentine (2002), Colonel Rutherford's Colt (2003), Louisiana Breakdown (2003), and A Handbook of American Prayer (2004). His final novel, Softspoken, was published by Night Shade in 2007. His acclaimed Dragon Griaule stories, including "The Man Who Painted the Dragon Griaule" and "The Scalehunter's Beautiful Daughter," were collected in The Dragon Griaule by Subterranean Press in 2012.
Shepard was still very active in the field at the time of his death. He published Five Autobiographies and a Fiction in April of last year and he wrote a regular film review column (which I regularly enjoyed, although I seldom agreed with him) for Gordon van Gelder's Magazine of Fantasy and Science Fiction. He died on March 18, 2014 at the age of 66.