Goth Chick News: Walker Stalker Con Drags into Chicago
Goth Chick News: Walker Stalker Con Drags into Chicago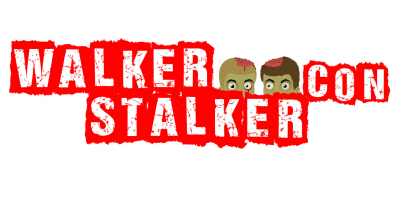 "It's some kind of zombie convention, did you know about this?"
This is GCN photog Chris Zemko calling me last Friday night with a hot bit of industry news. Apparently a very significant event in the Chicago horror scene had eluded us (let me show you my shocked face) and Chris had just done a diving catch.
A little bit of digging turned up the information that yes indeed, Walker Stalker Con was taking place in Chicago, at one of the larger convention centers, that very weekend.
Walker Stalker Con is the brain child of podcasters James Frazier and Eric Nordhoff, who at one point apparently road tripped to Senoia, GA, where they were able to view the set of The Walking Dead and meet the actors from the show. As a result of this experience, they began The Walker Stalkers podcast to discuss the show twice weekly during its seasonal runs – and from that sprouted the inspiration for a convention.
Kicking off first in Atlanta last year, the convention focused on recreating James's and Eric's original experience with The Walking Dead's cast and crew, along with actors and artists from other zombie shows, movies, and art. Due to the overwhelming response it received in 2013, James and Eric decided to host an additional annual event beginning in Chicago this year.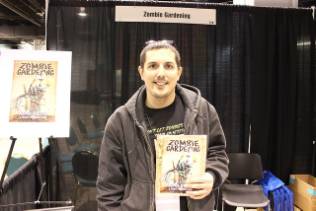 [Click any of the images in this articles for larger versions.]
First and foremost, this is a convention love-letter to the TV show. Nineteen Walking Dead cast members braved the Chicago temperatures to attend, in addition to stars of Arrow, Lost, and Game of Thrones.
Add to that an impressive line-up of vendors (they sold out all their available vendor space at the Rosemont Center) plus a very large and enthusiastic crowd and what you have is the recipe for success – or a lot of actors pissed off at their publicists.
James and Eric generously allowed us press passes in spite of our very tardy application and, unlike our normal show coverage routine, we waded in with only minimal research.
But what the heck? There's no way this wasn't going to be a great time. So let's just tear right in with the Best of the Show, shall we?
Zombie Gardening: I'm going out on a limb right from the get-go by saying this may well be the most unique concept I saw all day. Adam Kessel is the creator of Zombie Gardening; A Plant Foraging Guide. Adam is a Chicago area teacher who was having a difficult time getting his students excited about botany (really…?), so he figured adding zombies into the mix would grab their attention.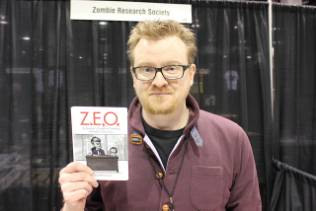 His book is set up like a field guide with what appears to be pasted-in polaroids and handwritten notes, and all of the plant life was identified within urban Chicago.
The plants are also all non-native, invasive species which were brought over by immigrants for their edible and medicinal uses, so in collecting them Adam's students (and you too) are not only learning about history, but are ridding the Chicago ecology of "zombie" plants.
Raise your hand if you think a teacher like Adam would have kept you from cutting class for the comic book store. Okay maybe I'm pushing it a bit, but cool, right?
Click HERE to read more about Adam's inspiration and order your own field guide from Amazon.
Only Human Comic: Speaking of the comic book store, we here at Black Gate are endlessly fascinated by the comic industry and those whose creativity allows them to inhabit that world.
Writer Joseph Michael and artist Dan Gorman are the creators of the new zombie comic Only Human, which tells the story of a 12 year old hero who must save the world from the zombie apocalypse. It provides a unique twist on a concept you thought you knew and we're very interested in seeing where this goes. Issue one is out now, issue two is coming this summer and GCN is excited to lend our support to an original and creative approach to our beloved walkers.
But don't take my word for it. Here are the gents themselves telling you about Only Human.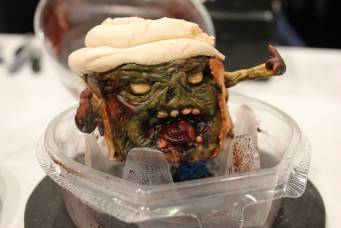 Z.E.O., A Zombie Guide to Getting A(Head) in Business: Scott Kenemore is not only what one would refer to as a "zombie-ologist," but his sense of humor could almost land him a gig with Black Gate.
The author of nine zombie-related works such as The Art of Zombie Warfare, Zombie Illinois, and The Zen of Zombie: Better Living Through the Undead, it was because of the many years I have spent in the underground offices of Black Gate that I was immediately drawn to his Z.E.O. book of zombie office advice.
With tidbits such as, "Zombies never apologize for what they do, and neither should you. If you totally f*** something up, just resign" and "Preserve your top performers! (Maybe in brine or dill or something. That way they'll taste like pickles)." Z.E.O is the essential guide for surviving in the eat-or-be-eaten world of corporate America.
Kenemore is also continuing to expand his Zombie (insert state name here) series, slowly working his way across the Midwest and examining the zombie experience from the uniquely localized perspective. Stay tuned for more after I dig into his latest installment, Zombie Indiana.
Zombie Cup Cakes: Food Network veteran and "extreme cake artist" Eric Woller of Meme's Treat Boutique has incorporated his lifelong passion of art and special effects into edible creations for celebrity clients such as Robert Englund, best known as Freddy Kruger in Nightmare on Elm Street, and Bruce Campbell from the cast of Evil Dead.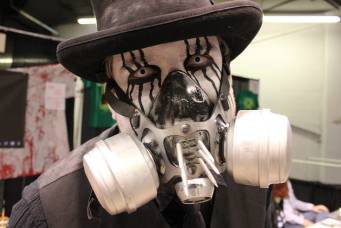 But it's Eric's cupcakes that are to die for.
Currently, Eric is busy working on a stop-motion, animated film inspired by one of his more interesting bakery confections – edible zombie cupcakes.
The premise is that a baker puts an injection of toxin into a couple hundred cupcakes and delivers them to a wedding. When each of the guests bites into a cupcake, the cupcakes turns into zombies – resulting in, as Eric puts it, "cupcake carnage."
Of course the only way to kill a cupcake zombie is with a silver fork – plastic just won't cut it, literally; and this results in a world shortage of forks.
When I finished snorting, Eric handed me a resin version of a zombie cupcake from the film, complete in a bloody, plastic takeaway container and a certificate of authenticity. Apparently public demand for a long-lasting cupcake zombie was too loud for Eric to ignore, so he lovingly obliged.
Did I score one? Do you even have to ask?
Dark Summit Haunted House: What would GCN show coverage be without including the latest in Chicagoland haunted attractions, and I'm as giddy as a tweener at a Twilight convention to tell you about this one.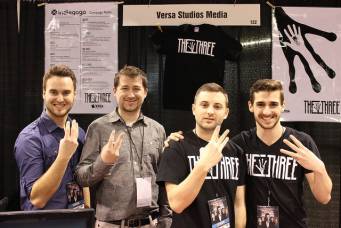 John Shankel and Twisted Intention Productions are working on bringing all your nightmares to life at the Dark Summit Haunted House, especially if those nightmares involve clowns. John and team have been at the haunt business for a few years, but promise that 2014 is the year they pull out all the stops and take the whole "insane carnival" to the next level.
Click HERE to see what they got up to last year – there seems to be a lot of lion whips involved from the sounds of it, so be warned… or be enthusiastic… or whatever.
The Three: Indy film alert; or more specifically sci-fi, horror indy film alert, which as you know, is the best kind.
Ken Stevenson, Andrew Bennet and Dylan Vieri make up the executive team of Versa Studios Media, the indy production house behind The Three currently in preproduction.
When Brian LaRue becomes convinced that his father is being visited by extraterrestrials, he takes it upon himself to seek out answers from Jonas Allenbach, a local recluse who claims his son was abducted seventeen years earlier. But as Brian delves deeper into the unknown and the mysteries behind what Jonas refers to as "The Three," terrifying realizations come to light and Brian must confront the many demons of his family, which just might be exactly what "The Three" desire.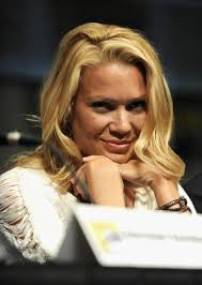 The gents explained "The Three" refers to the three types of extraterrestrial life forms that have been reported: insectoids, reptilians, and "the greys."
They also explained they are very busy doing a lot of creepy effect stuff with cicadas and the sounds cicadas make, then Andrew reached a hand into an aquarium on the table and pulled out a cicada to make his point.
Okay guys – gross but effective.
We were so intrigued by what we heard that we're going to feature Versa Studios in a dedicated post about The Three, so watch this spot in the near future.
And it just wouldn't be a convention without a few celebrity encounters. As mentioned, the show was crawling with The Walking Dead cast, but nearly everyone we spoke to looked a bit like….well… walking dead.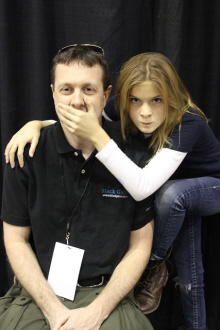 It wasn't until we got to Laurie Holden ("Andrea") that we learned all the adult cast members had spent what apparently was a raucous evening at Chicago's Second City club the night before, where adult beverages flowed as freely as zombie innards.
Lucky for us, this general lethargy didn't extend to the more junior cast members and Ms. Brighton Sharbino ("Lizzie") was all energy and enthusiasm. She told us about the new song she just recorded with fellow cast member Kyla Kenedy ("Mika") called "Begin Again" and how it was just now available on iTunes.
She is also quite a talented cartoonist, proudly displaying several of her more intricate doodles she worked on between show obligations.
What she didn't tell us (naturally) was that in Sunday evening's episode, her character would brutally stab Kyla's character and then Lizzie herself would buy the proverbial farm.
Which makes the picture I got of her and Chris all the more awesome, especially when she took up the position by Chris's chair, then looked over his shoulder and puzzled asked, "Is that a kilt?"
Yes it is Lizzie, yet it is…
---
You have another chance to experience all this for yourself, sans the kilt, at the Atlanta Walker Stalker Con coming October 17-19. Until then, post a comment or drop a line to sue@blackgate.com.