Announcing the Winners of Advance Reading Copies of Jon Sprunk's Blood and Iron
Announcing the Winners of Advance Reading Copies of Jon Sprunk's Blood and Iron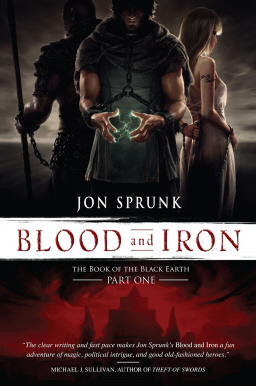 Last month, we announced a contest to win one of two advance reading copies of Jon Sprunk's highly anticipated fantasy epic Blood and Iron, compliments of Pyr Books. What's that? You don't recall the announcement? Strange — it was in the third paragraph of the post on our exclusive fiction excerpt of Blood and Iron, which we debuted right here.
You're right. Perhaps that was a little sneaky. But plenty of readers fans did spot the contest, and we received a surprising number of entries. Attentive folks, those Sprunk fans.
The deadline for entries was February 28th. And so, early this morning, we carefully inscribed the names of each entrant on a numbered clay tablet, and then used the only scientifically-proven method of pure random number generation to select two random winners: D&D dice. Without further ado, we're very pleased to announce the winners of two rare advance reading copies of Blood and Iron:
Travis Bingaman
Shauna Kosoris
Congratulations to the winners! It's too late to enter the contest, but it's not too late to discover Jon's unique brand of heroic fantasy. Visit his blog here or stop by Black Gate every Wednesday to read his regular column.
Thanks to everyone who entered, and to Jon Sprunk and Pyr Books for sponsoring the contest. Blood and Iron will be published by Pyr Books on March 11. Read an exclusive excerpt here.