Colin Wilson, June 26, 1931 – December 5, 2013
Colin Wilson, June 26, 1931 – December 5, 2013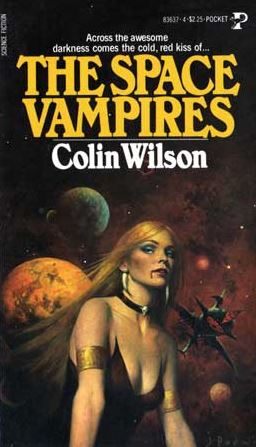 Bill Crider is reporting that Colin Wilson, the British author of over 110 books — including Ritual in the Dark (1960), The Mind Parasites (1967), The Space Vampires (1976), Science Fiction as Existentialism (1980), and the Spider World novels — passed away late last week.
Wilson debuted in 1956 with a bestselling work of non-fiction, The Outsider, when he was only 24 years old. Written mostly in the Reading Room of the British Museum, while he was living in a sleeping bag on Hampstead Heath, the book examined the psyche of the Outsider by looking at the lives of artists and writers including Ernest Hemingway, Franz Kafka, Jean-Paul Sartre, Friedrich Nietzsche, Vincent van Gogh, T. E. Lawrence, and others. (See "Now they will realise that I am a genius," The Observer's entertaining piece on his autobiography, for more details)
Wilson was immediately celebrated as one of Britain's leading intellectuals — a reputation "that sank as fast as it had rocketed" (as he later observed) after the publication of his second book, Religion and the Rebel (1957), which Time magazine reviewed under the headline "Scrambled Egghead." By the 60s and early 70s, Wilson had left academic subjects behind to focus on the Occult, in books like The Occult: A History (1971), Aleister Crowley: The Nature of the Beast (1987), and biographies of other spiritualists. Wilson became an active member of the Ghost Club and began to seriously explore topics such as telepathy, life after death, and the existence of spirits in his later writing.
Wilson's fiction includes several noted Cthulhu Mythos pieces. The hero of The Return of the Lloigor (1974) discovers the Voynich Manuscript is actually a medieval translation of the Necronomicon; and in the preface to his 1967 novel The Mind Parasites, Wilson wonders "what would have happened if Lovecraft had possessed a private income – enough, say, to allow him to spend his winters in Italy and his summers in Greece or Switzerland?… what he did produce would have been highly polished, without the pulp magazine cliches that disfigure so much of his work."
In 1985, Poltergeist director Tobe Hooper filmed Wilson's The Space Vampires as Lifeforce. Wilson hated the film version (so did a lot of people), but it's cheesy fun, as Leonard Maltin happily reported in his review for Entertainment Tonight.
Colin Wilson was a tireless writer; his last two books, Super Consciousness and Existential Criticism: Selected Book Reviews, appeared in 2009. He suffered a stroke in June of last year, losing the ability to speak. He died on December 5th in Cornwall, at the age of 82.