New Treasures: Magic and Loss by Nancy A. Collins
New Treasures: Magic and Loss by Nancy A. Collins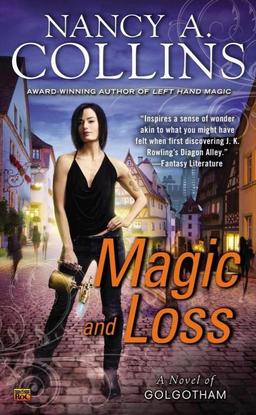 Nancy A. Collins has had a long and distinguished career in dark fantasy. Her first novel, Sunglasses After Dark (1989), became an immediate classic of vampire fiction, and her character Sonja Blue went on to appear in two additional novels: In The Blood (1992), and Paint It Black (1995). Her three-volume Vamps series from HarperTeen began in 2008, and her brand new adult series Golgotham began in 2010 with Right Hand Magic, followed a year later by Left Hand Magic.
The third volume, Magic and Loss, arrived last week, and it continues the tale of Tate Eresby, an artist who moves to Golgotham, Manhattan's centuries-old supernatural district. The neighborhood is populated by creatures from myth and legend, but its most prominent citizens are the Kymera, a race of witches who maintain an uneasy truce with New York's human population.
It has been several months since Tate Eresby developed her new magical ability to bring whatever she creates to life, but she is still learning to control her power. Struggling to make a living as an artist, she and Hexe can barely make ends meet, but they are happy.

That is until Golgotham's criminal overlord Boss Marz is released from prison, bent on revenge against the couple responsible for putting him there. Hexe's right hand is destroyed, leaving him unable to conjure his benign magic. Attempts to repair the hand only succeed in plunging Hexe into a darkness that can't be lifted — even by news that Tate is carrying his child.

Now, with her pregnancy seeming to progress at an astonishing rate, Tate realizes that carrying a possible heir to the Kymeran throne will attract danger from all corners, even beyond the grave…
Nancy Collins has been writing dark urban fantasy since before it existed as a sub-genre, and she still does it far better than most. Magic and Loss was published November 5th by Roc; it is 290 pages, priced at $7.99 for both paperback and digital versions.
See all of our recent New Treasures here.