Blogging Sax Rohmer's The Drums of Fu Manchu, Part Three
Blogging Sax Rohmer's The Drums of Fu Manchu, Part Three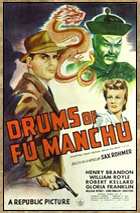 Sa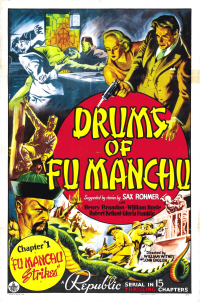 x Rohmer's The Drums of Fu Manchu was first serialized in Collier's from April 1 to June 3, 1939. It was published in book form later that year by Cassel in the UK and Doubleday in the US. The third quarter of the book picks up with Ardatha having risked her life to warn Bart Kerrigan to leave Venice immediately. The beautiful Eurasian climbs through the startled Englishman's window in his canal-side hotel room and pleads with him to cease interfering in the Si-Fan's plans to assassinate German dictator Rudolf Adlon.
While Kerrigan's mind reels at the thought that Ardatha shares the same feelings for him as he does for her, the two are interrupted by the sound of footsteps outside. They fall silent, fearing she has been followed, but when the footsteps pass, the two fall into one another's arms and make passionate love in their desperation.
After Ardatha departs into the night, Kerrigan first fears for her safety and then is overcome with guilt at the thought that she acted the part of a decoy who kept him from his duty of watching over Sir Denis. He rushes to his friend's room and finds Smith has disappeared. Kerrigan is forced to realize that while he made love with Ardatha, Sir Denis fell into the hands of the Si-Fan and their efforts to protect Rudolf Adlon from assassination have been compromised as a result.
The following day, Kerrigan does his best to place the German dictator under surveillance without Smith's guidance. He discovers that Adlon is having an affair with a beautiful Eurasian woman. The same woman Kerrigan believes used the identity of Mrs. Milton and whom Sir Denis believes to be the daughter of Fu Manchu returned from the dead. Realizing that Fu Manchu's daughter is leading Adlon to his death, Kerrigan follows the couple to a nearby villa. He is shocked to turn a corner and find no sign of the German dictator. Face to face with the daughter of Fu Manchu, Kerrigan brandishes his automatic and attempts to take her into custody. As he steps forward, the floor beneath him gives way to a trap and he loses consciousness as he falls into darkness.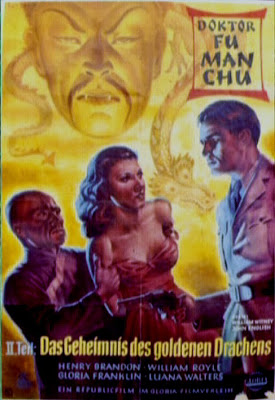 Kerrigan recovers consciousness to find himself a prisoner in a dank cell alongside Sir Denis. Relieved to find his old friend alive, Smith tells how he fell into the Si-Fan's clutches. After spying on Kerrigan and Ardatha making love, Smith followed the Eurasian girl back to the villa where he fell into the same trap as Kerrigan.
Dr. Fu Manchu enters the cell and clarifies to Sir Denis that Fah lo Suee is dead, but has been resurrected as Koreani and is unaware that her master is also her father. The Devil Doctor also informs Smith that he will share her fate and be reborn with a new identity with no memory of his old life. No sooner has the Devil Doctor departed, then "Koreani" pays them a visit. She is troubled by Sir Denis, whom she recognizes but cannot recall. Rohmer does an excellent job of winning sympathy for her as the reader realizes the vestiges of the love which Fah lo Suee had declared for Smith in the past still linger somewhere in her clouded memory.
After her departure, Smith and Kerrigan work furiously to free themselves from their bonds. Smith succeeds just before the guard arrives. Kerrigan grasps the Thuggee in a murderous grip with his legs while Smith sets upon him and overcomes him. Escaping from their cell, they cautiously search the villa and come upon Dr. Fu Manchu's meeting with an enraged Rudolf Adlon. The German dictator receives his final warning from the Si-Fan in person from Fu Manchu. He is to be released immediately. If he leaves Venice in one hour and ends his campaign of European conquest, his life will be spared. If he remains and meets with Italian dictator Pietro Monaghani, nothing will save him from assassination. The story scales a peak of suspense as the reader eagerly awaits the conclusion.
---
William Patrick Maynard was authorized to continue Sax Rohmer's Fu Manchu thrillers beginning with The Terror of Fu Manchu (2009; Black Coat Press) and The Destiny of Fu Manchu (2012; Black Coat Press). The Triumph of Fu Manchu is scheduled for publication in May 2014.