'This is the Real Deal': Tangent Online on "The Highwater Harbor"
'This is the Real Deal': Tangent Online on "The Highwater Harbor"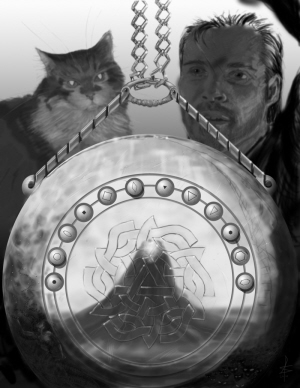 Bob Blough at Tangent Online reports on Aaron Bradford Starr's new novella of adventure fantasy, published here last month, comparing it to the adventures of Fafhrd and the Gray Mouser:
"The Highwater Harbor" by Aaron Bradford Starr is a superior fantasy about a roguish band of three – Gloren, a Gallery Hunter, Yr Neh, a talking cat of noble birth, and their chronicler Aven Penworthy. This novella contains evil magics, pirates, mysteries, secret keys and a plethora of other fun stuff all written in delicious prose that at times is truly humorous…

Oh, and did I mention volcanoes? This is the fourth story in an ongoing series and is complete in itself. It put me in mind of Fritz Leiber's Fafhrd and Gray Mouser series of adventures. Each of their tales stood alone but left you wanting to see more. So did "The Highwater Harbor." And I think that is the highest praise I can give the author. This is the real deal. Please enjoy it.
"The Highwater Harbor" is the fourth story featuring Gallery Hunters Gloren Avericci and Yr Neh. It follows "The Daughter's Dowry," in which the two seek a legendary treasure in a sunken tower, "The Tea-Maker's Task," which sees them accept a dangerous commission to investigate a deadly island, and "The Sealord's Successor," a mystery novella in which the two Gallery Hunters find themselves drawn into a deadly conspiracy involving a powerful kingdom, ancient secrets, and a very peculiar painting.
The complete catalog of Black Gate Online Fiction, including stories by Mark Rigney, Jamie McEwan, Martha Wells, Vera Nazarian, Ryan Harvey, Nina Kiriki Hoffman, E.E. Knight, C.S.E. Cooney, Howard Andrew Jones, Harry Connolly, and many others, is here.
"The Highwater Harbor" is a complete 35,000-word tale of adventure fantasy. It is offered at no cost. Read the complete story here.